15 Tips for Planning a Beautiful Wedding
on a Budget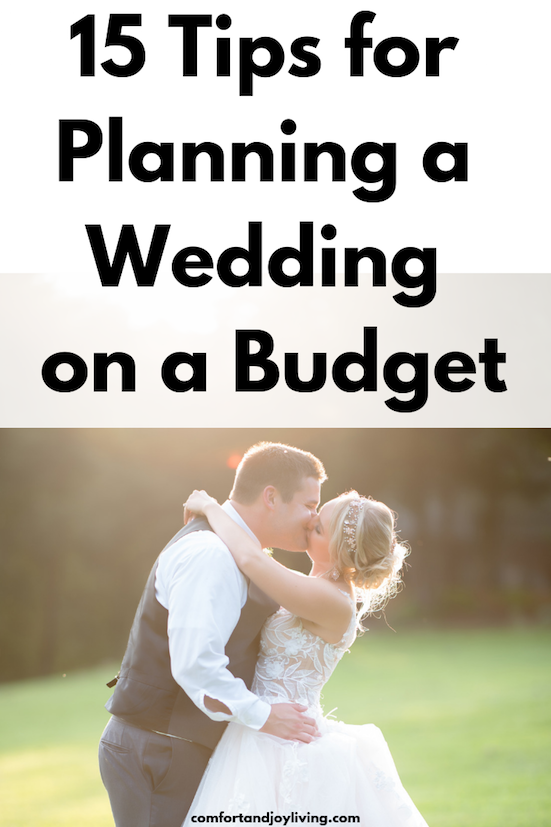 You're getting married! Congrats! As you get ready to plan your big day, it can be very overwhelming—and very expensive! You might have some ideas as to what you want, but your budget may not quite add up to the wedding that you have in mind.

While your wedding should be your dream come true, it should also not put you into serious debt either. Here are some things that you can do to help you plan your dream wedding on a budget, while still getting those things that you want.

Here are 15 Budget Wedding Planning Tips

1. Create a Budget
How much should you pay for a wedding? There isn't a "right" amount. It is only what you can afford. However, the most important ting to keep in mind is that you don't want to allow yourself to go into debt. Yes, this is a magical day, but try to spend so much getting caught up in the day, but focus more on the fact that you're entering into a marriage.

If you have a tight budget, there are things that you can do to save some money. For example, if you need to buy items, you can purchase gift cards at a discount. You can get a gift card worth $100, but pay just $95. That's $5 in your pocket. You can find the for all sorts of retailers, both online (on sites like Giftcardgranny.com and Raise.com)  and traditional brick and mortar.

While you may even want to hire a wedding planner, that may not be in the budget. You can do all the planning yourself. There are a lot of great tips and guides that you can order, which will ensure that you leave NO stone unturned.

If, after you write everything down that you want for your day, you find that you are overspending, that's the time to prioritize. What matters most to you? Do you have your heart set on the dream dress? Then make that priority one. Perhaps you're not as picky about the food for the meal, then you may be able to spend less on this What is important to each person will vary, so don't compare yourself to others and follow your heart.

2. Guest List
Inviting too many people is an easy way to overspend. While you don't want to hurt anyone's feelings, your budget really is something that matters. If you can only afford 50 guests to attend, then pair down your list and have only that many there at your wedding. 

If you have to cut down on the number of guests that you invite to the wedding, plan a get-together after the wedding. Invite those that you could not have there for your special day and celebrate your union—all with a lot less stress.

3. Have an Off-Season Wedding
Wedding season is during the spring and summer months. If you plan your wedding off-season, you may find that venues charge less. If you plan a wedding in November, you can incorporate those gorgeous fall colors and might get that hotel ballroom that you want.

If you are doing a destination wedding, keep in mind that summer is often off-season in these areas. You may want to consult with a travel agent to find the time of the year when the costs might be lower.

You can also use the time of the year to take care of decorations for you. For instance, if you get married in December or January, many churches are beautifully decorated with flowers, trees, and lights—that's free decor. That may also hold true for your venue. They might have trees or other items decorating the space—and you have to pay anything for them!

4. Location! Location! Location!
Another trick to planning a wedding on a budget has to do with the location.

Rather than having it at the usual hotel ballroom, why not try a different kind of venue. Perhaps an historic site or aquarium has a great location for your event. You may even know a friend who has a beautiful backyard and garden. Think outside the box for your venue location and you might find something that costs much less (or is even free).

5. Invitations
You can use online sites to order your invitations, rather than using local printers. They sometimes offer discount codes to knock down those costs.

You can find beautiful fonts online and create your own invitations. Then, purchase heavy card stock so you can print them yourself. If you don't find them in the size that you want—some card stock will even come in 5x7—you can just pay a service to cut them for you.

Try searching online for Wedding Fonts and you'll see hundreds of options. Download the font that you want and create your own custom invitation. Add some pretty ribbon, stamping or even colored card stock to them to make them your own.

While Save the Date cards are't always necessary, they can be helpful if you're having your wedding during a busy time of year. You can create your own on sites like PicMonkey or even Canva and then just pay to get them printed, at a minimal cost.

6. Knock out the essentials
One way to save is to skip some of the things that you may see at other weddings. By not having a program, you can knock some money off of your budget. You may even be able to bypass assigned seating, which can also save costs on those tags—and also the stress of trying to figure out where everyone will sit at the reception).

7. Simple Decor
If large elaborate floral centerpieces are just out of your budget, you can still have beautiful table decor, for a lot less. Got to Pinterest and do a search for ideas. Check out these few simple ideas:

If you want floral, why not go with mostly greener with some floral accents—which is a lot less expensive.
Use small plants or florals for your centerpieces. If you do this, you can send them home with family and friends as a thank you for being a part of your day.
You can either find or purchase mason jars, tie ribbon around them and place candles inside—for very little per table.
Mirrors with tea light candles—reflects the light up and gives a great illusion.

8. Rent It
Instead of spending a lot of money purchasing decorations such as tablecloths and even centerpieces, there are retailer who will ret these items to you! These companies have already paid for the items; they'll rent them to yo for a nominal fee.

They'll sometimes even drop them off, set them up and even do the clean up for you. It's a great way to bring in design elements without ruining your budget.

9. Flowers
The number one way to save here is to buy flowers that are in season. When you use flowers that aren't in season, you'll pay a premium rate to get the sent to your florist to be used in your wedding. Instead. ask your florist which are available at a lower cost.

If you really want those special flowers, try to use them sparingly. Instead of having full bouquets that are filled with your favorite blooms, use other flowers and then add the expensive ones sparingly. That way, the flowers are included, but you'll be able to knock down the cost.

Another way to save money on your bouquets is to use a bit more greenery than flowers. They'll still look gorgeous, but since greenery costs less, you can save money this way as well. You ca also use larger flowers. By doing this, it will take fewer flowers to make the bouquet, which can really drop the price of your flowers.

If you want flowers to decorate your tables, you can use plants with a few flowers mixed in or even lanterns with one or two flowers with a candle in them. Scaling back on the flowers on your tables is an easy way to save on your wedding budget.

10. Wedding Dress
This is where a lot of money ca be spent. Make sure to tell your salesperson exactly what you can afford to spend. A good salesclerk won't show you anything outside of your budget—as you would hate to fall in love with something that you can't afford.

When looking at your dress budget, make sure to also include the costs of the veil or headpiece, necklace, earrings, shoes, and alterations. These other items often get overlooked and can make that dress budget much higher.

If your mother or grandmother have a gown that you want to wear, that would probably mean the world to them. Except for the cost of alterations and a cleaning, you'll not only get a free gown, but you'll also wear something of sentimental value.

Borrow jewelry and accessories. Wear your mom's diamond earrings or your grandmother's pearls. This will not only save you money, but will also instantly be your "something old and something borrowed."

Shop the sale racks. Bridal stores will oftentimes sell off last season's dresses. Contact your store to find out when they will offer this an try to get in on that sale if you can.

Visit a mass retailer like David's Bridal, Macy's, JCPenney, etc. These stores sell gowns, and sometimes, have prices that are much lower than higher end designers. I bought my own gown at David's Bridal and paid under $250.

Consider buying pre-owned. This may not be the most ideal, but it's a fit for some women. One such site that you can find these is PreOwnedWeddingDresses.com. Your can search by style, size, etc., to find the dress that will work for you. Keep in mind that you'll need to know what you want before you buy from here and will need to also pay for alterations to make sure that it fits properly.

You might even want to just rent a wedding gown. After all, your fiancé will rent his tuxedo, so why not rent your gown, too? You an visit RentTheRunway.com (for example) and find a gown that you can rent at a fraction of the cost! You can also rent bridesmaids dresses too—so they're not stuck with a dress that they'll never wear again.

11. Photography
This is one area where you don't want to just hire "anyone." These are your memories of your day, so you want to make sure that you use a good photographer (and videographer, if you want one).

You don't have to purchase a large album right away. Hire a good photographer for their time and see if you can pay for the images so that you can print them yourself—mpix.com is a good site. You can even order your own wedding photo book or album at a later date (when your budget allows). You may pay a bit more for the rights to the photos, but it can be worth it to purchase add-on items and prints as you can afford it.

You can find someone who is just getting started with photography. New photographers usually charge much less than big name photographers, because they are getting started. You may also find that they take even more photographs since they are newer and want to ensure that they do what you want—rather than higher end professionals, who are usually set in their ways).

If you have your wedding on a weekday evening, you might save a bit on the cost of the photographer, since you're not competing for the prime wedding time which is Saturday.

Make sure to visit with several photographers and get their estimates. Make sure that it's all spelled out in writing for you. Here are some questions that you should ask. Are there hidden fees such as travel expenses? Does the cost include any prints? Do you get the prints on CD to own yourself. Does the fee include a set number of hours? then, don't be afraid to negotiate. If you find one person that charges $200 more than someone else, try to negotiate the price down by offering to pay in ash or seeing if you an swap out an hours' worth of time taking the photos to some prints instead.

When you sent your thank you note to family and friends, include your email or create a DropBox folder which is open to sharing, and ask them to send any photos that they took of you.You might find some of the best shots were taken by someone other than your photographer. In fact, they may get something that your photographer missed!

12. Music
There's nothing like a live band playing at your reception. However, that can be very expensive. If you hire a DJ, you can often cut to costs by more than 50%.

Make sure that you know the time that you want them to perform or play. If you stick with 4 hours, that is pretty average. If you want them longer than that, they may charge higher fees. For that reason, let your band or DJ know what time to start playing and when to play that final song.

Some musicians/DJs may offer a discount if you pay in advance and/or pay in cash. It's worth asking to see if they're willing to negotiate the price if you try this method of payment.

If you can't afford a larger band or DJ, you might want to check with your local college music department. There are sometimes groups who will provide musical entertainment at a fraction of the cost. Just make sure to get references and check them before you book them for your wedding.

13. Food
There is a misconception that appetizers will cost less than a full meal. That may not be the case. It's best to compare the cost of appetizers only, sit down meal or even buffet to find out which one is the lower priced option. 

This goes back with your venue, but if you can find one which allows you to use your own caterer, you may be able to save. This will allow you to visit with caterers and possibly even negotiate your price down. If you go through a hotel, you'll have to use their restaurant and will be stuck paying the price that they charge.

14. Cake
This is the centerpiece of the reception. Cutting the cake with your spouse and feeding one another a slice. These can get quite expensive rather quickly.

Have a smaller "real" cake and then have sheet cakes to serve guests. There's no rule that says that your guests have to be served cake from the tiered version. Sheet cakes costs much less than a large cake and are an easy way to save.

Opt for cupcakes. This is an option that can be used along with a smaller wedding cake. Have your cake in the center of your table and surround it with cupcakes for your guests.

Cut smaller slices. If you do want everyone to have a slice of the cake, have the person serving cut the pieces a bit smaller. The cake will go further to serve more.

Check with your local grocery store. These bakers do a beautiful job making all sorts of cakes—including wedding cakes! They often charge much less for them as well.

Visit your local culinary school. This is a great way for chefs in training to practice their skill. They have an expert chef helping them so that you cake will still look perfect.

Hire someone that's just getting started. Someone who has just started their own business will often charge a lower price for newer customers, as it helps give them experience, references, and even advertising. If you can find a local baker instead of hitting up a large bakery shop, you may find your cake for much less.

Stick with buttercream or whipped icing. Fondant is very expensive. It looks very sleek on a cake, but it's the most expensive option when it comes to decorating.
 
You can also use a few small flowers as the topper and even to embellish the sides—saving you costs on decorating.

15. Wedding Favors
It's traditional to give wedding favors to your guests as appreciation for their loving support of your marriage. When you have a large wedding, the costs of favors can be pretty expensive. Instead of getting a favor for each guest, give one to each couple. Just make sure that it's something shareable, like a treat, such as chocolate or a box of pretty macarons.

When it comes to planning your wedding, remember that it's just one day. Your marriage is a lifetime. And, you don't want to start it out with a mountain of debt.

LEAVE A REPLY
Your email address will not be published.