15 Amazing Tools To Organize Your Life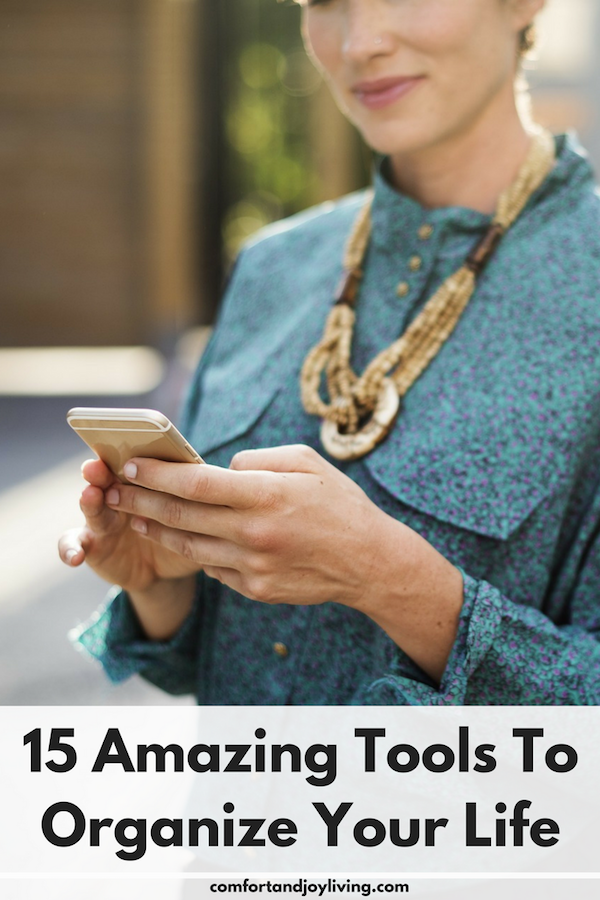 The housework, the meals, the kids, the job…how do you stay on top of it all? Without organizational tools, my life would be totally chaotic. I've come up with a list of items that have helped me keep my daily life under control. If you are struggling with this also, these tools may help bring more order to your life.

Budget Programs
Setting up a budget and sticking to it can be quite a challenge. These tools can help you manage your money.

• You Need a Budget (YNAB)—This budgeting program not only helps you set a realistic budget for your family, you can sync all your devices and it lets you monitor your progress in real-time.

• Mint—This app allows you to pick a budget, set goals for your family and view your progress. You're able to categorize your spending and sync all your accounts.

Calendars
With all our appointments, deadlines and daily events, calendars are essential to keeping organized.

• Dayviewer—Dayviewer is an online calendar that allows you to share your calendar with family and friends or keep it private.

• Coolendar—If you like your daily schedule in a list format, this program's for you. It also allows you to use custom tags to share plans and it syncs with friends via Twitter, Instagram and other social media sites.

Storing and Sharing Documents
These cloud sharing programs help you store documents and let you send them from your computer to a smartphone or tablet and back.

• Dropbox—Dropbox allows you to back-up important files, store and send photos, videos and documents to anyone with a Dropbox account.

• Google Drive—Google Drive syncs files with all of your Google programs. You can share documents with others to view, download and collaborate.

Daily To-Do Lists
Making a daily to-do list is a life-saver for me. And with these programs, your lists are always organized and in one place.

• Google Tasks—Tasks is part of Gmail and is an easy "to-do list" program. If you have multiple task lists, you can organize your tasks by category. You can also add due dates that will show up in your Google Calendar. And when a task is completed, it can be crossed off.

• Todoist—Todoist lets you share tasks with family and friends, plus the ability to use it on any device. You can also prioritize tasks and track your productivity.

• Remember the Milk—This program lets you organize tasks by category, priority and by day. You can also send yourself reminders by text message, email or instant message.

• Cozi—Cozi allows you to keep track of everyone's appointments. It also lets you set reminders so you don't miss a meeting.

Reminders
Even with a calendar, I can forget to make a phone call or respond to an e-mail. e-Stickies are helpful reminders without all the clutter of traditional sticky notes.

• Stickies—There are a lot of online Stickies programs to choose from. Instead of placing the paper stickies all around, declutter with these great reminders for all your tasks. The best thing about these is that you can set up an alarm or pop-up reminder to ensure that your tasks get done.

Managing Projects
If you blog or have a home-based business, a project management product will help you keep track of who's doing what and the progress that's being made.

• Asana—Asana allows you to share tasks with others and work on projects together.

• Evernote—Evernote allows you to make a to-do list, write a reminder or even take a picture of a sketch. You can share with anyone and it's always available on all your devices.

Newsworthy
• Feedly—It's important for me to keep up with worldly events, but sometimes the Internet can be a bit overwhelming. I like Feedly because it lets me view article in clips, like newspaper headlines. That means I can get a quick overview and read what I find most interesting to me and not miss anything.

Hands-Free Note-Taking
• Dragon Dictation—Have you ever been driving and suddenly  come up with an idea that you want to write down. A program like Dragon Dictation can help with that. You can use this dictation program as an app or as software. If you don't have the time to type things out, just speak and the program types out your words. It can be used for notes, texts and anything you would type out. This convenient program is easy and hands-free.

What tools do you use to stay organized?

LEAVE A REPLY
Your email address will not be published.