6 Space Saving Solutions for Small Kitchens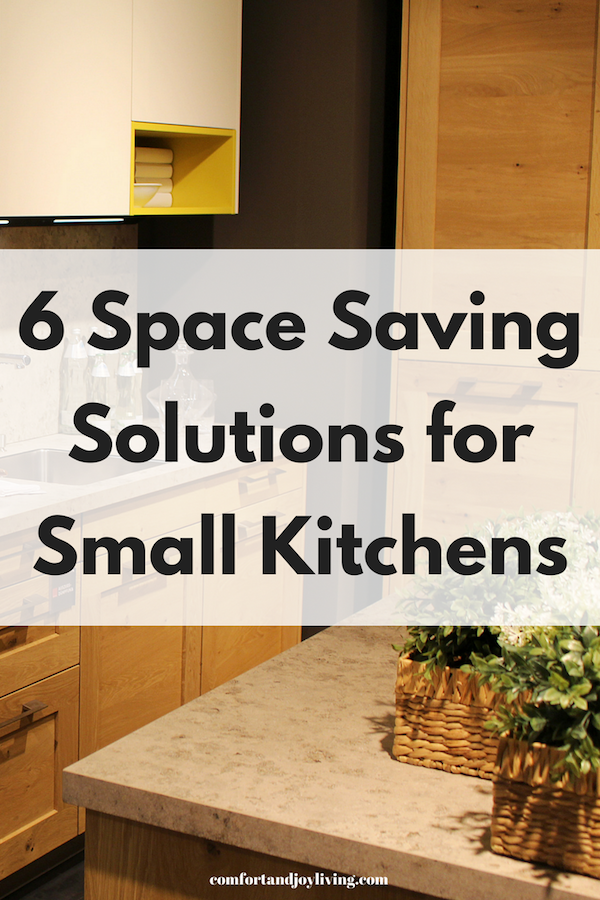 We live in a house with a rather small kitchen and trying to store stuff so that everything is organized and easily accessible has been a challenge. Here are 6 storage items that I use that make it so much easier to find things when I need them.

1. Lazy Susan
This is such a useful item that I have in my kitchen—I have 2 and am planning to get more.

You simply place items on it and place it in your cupboard so you can spin it around so things that were once lost in the back are now in the front and easily accessible.

2. Under Shelf Baskets
One of the ways we waste space is to not use vertical storage as well as horizontal. By this, I mean we have shelves in our cupboards that are full, but there's a lot of space above the shelves that's not being utilized. Of course, it's not practical to just place things on top of each other, so a great solution is to use shelf baskets—they simply slot onto a shelf and create another shelf.

3. Tupperware Containers
These are so handy and you can use them for items like tea, coffee, sugar, cereal, baking products, etc.
When shopping for these containers, some of the features to look for are:
Sturdiness
Clear plastic to see what you have
Secure seal to keep things fresh
Available in different sizes
Stackable—to make the most of the vertical space in cupboards
Easy to open and close (especially to make it easy for your kids)

4. Extra Shelves
To utilize the extra vertical space in cupboards, I use extra shelves, especially where I have canned goods. I don't like stacking cans because they can easily topple over. Extra shelving works well at the back of a deep cupboard so you can lift things a little higher than what you have in the front, so you can see and reach those items better.

5. Bakeware Rack
Instead of stacking things up in cupboards, where you have to take everything out to get to one of the bottom ones, I like to "file" them instead.

By this, I mean placing them on their side and storing them in a way that you can just pull them out when you need them—like a filing cabinet for paperwork.

A bakeware rack allows you to store items by filing rather than stacking them on top of each other—and these racks makes it very easy to do.

6. Tiered Cabinet Organizer
Last but not least are tiered shelves, another way to use vertical space in your cupboards while making things accessible. 

I use these in my spices and herbs cupboard since these items are small and easily get lost in the back of cupboards.

I hope that these storage products give you ideas for how to make your own cupboards more organized and efficient.

I'd love to know what products you love in the kitchen that you would share—please leave a comment below and it will help others with your tips! Thanks in advance.

LEAVE A REPLY
Your email address will not be published.