How to Build Your Home Library on a Budget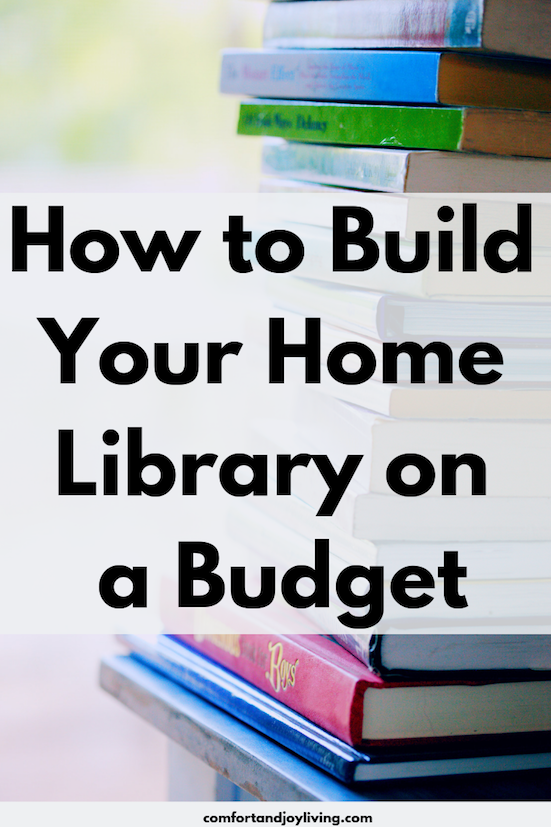 When it comes to books, I kind of feel like you can't have too many. More books means more adventures to go on and more time reading can lead to more time developing important skills such as building your vocabulary as well as having fun. I grew up in a home with a lot of books since my parents wanted to instill a love a reading at a young age. I want my children to have that same experience. However, books can be expensive and if you want to build a home library with a bunch of books, then the price can get really high quite fast. Below are some of my best tips for building a library on a budget that I have used. I hope that they save you as much money as they do me and help you build a library of your own in your home!

1. Free Kindle and Nook Books
For free Kindle books, just visit the Cheap Reads page on Amazon to find the latest freebies. best of all, you don't need to own a Kindle to read these books. You can download the free Kindle app to your tablet, smartphone or other electronic device to read any Kindle books.

If you use a Nook reader, they also offer free books, but not as many—and they can be more difficult to look through to find them, as many are just free previews. You can visit Barnes & Noble to see if you can find some that will work for you.

As I mentioned before, you don't need to own a Kindle to read these books. You can just download the free Kindle app to your tablet, smartphone or other electronic device to read any Kindle books.

2. Have a Book Swap
This method serves a dual purpose. You set up a party so that you an catch up with your friends—bonus #1—and everyone brings books  that they're finished reading and then swap with one another—bonus #2. You can get rid of those books that you're through reading and get some new ones in the process—all for free!

3. Online Swap
You can trade out your old paperback books for new ones on sites like PaperbookSwap. You list a book that you want to trade out and then send it to the person who asks for it. It's an instant way to get free books.

You can then get another one in return. You pay for the postage for the books that are mailed to you, and those that you want arrive with the postage paid. You can then keep the book, or turn around and trade it again when you're through with it.

4. Skip the New Release
Instead of rushing out and getting the newest title, it's better to wait a while. The price will drop after some time. If you really need it, you should visit your library to check it out for free. There may be a waitlist, but being patient will pay off in savings.

5. Check Out Used Bookstores
It's amazing what you'll find at used bookstores. You may need to visit several of them to track down the ones that usually has the titles that you want, and then add those to your list of stores that you need to frequently check on. You can find cheap books at these stores vs. buying them brand new from a big box retailer or even online.

6. Garage and Estate Sales
Another resource for cheap books are garage sales. The only downside is that the selection may be more limited. If you're visiting an Estate Sale, you have a good chance of finding some older titles that you may want—especially some of the classics.

7. Check Your Local Library
The library may seem obvious, but oftentimes, people forget about this option for free books. Of course, if you don't return them in a timely manner, you will have to pay a late fee.

Make sure to also ask your library about Library Book Sales. They will sometimes sell old books and movies, to make room for the newer titles. They're used, but still are ready for reading.

8. Shop Online Outlets
These can be a great way to get books at reduced prices. Many times, the books have been read only ones, which means that they'll be in excellent condition. A few sites to check out are HalfPriceBooks.com and half.com. Both have some great discounts.

9. Rent Books Monthly
Another way to read books at at discount is by renting them. Books Free is a service that's similar to HuluPlus and other sites. You pay a monthly fee and get to rent a select number of books. When you're finished with them, return them and then get new ones back.

10. Amazon Unlimited Membership
The Amazon membership also isn't free, but if you love to read, then it can quickly pay for itself. An Amazon Unlimited membership is $9.00 a month and allows you to read more than 1,000,000 books and magazines. This includes not only Kindle books, but also Audiobooks as well. There's no limit to the number you can access each month.

11. Review Before You Purchase
You probably research vehicles, appliances and more before you spend your hard earned money and the same should hold true for books. You can often preview pages on sites such Amazon—even if you plan to purchase the book at your local store. This way, you'll be able to make sure that it's what you're looking for.

There are also customer reviews that you can take a look at too, to get an idea of what others have to say. Of course, I don't always rely on them, unless it is overwhelmingly negative—only because opinions can vary so much.

Do you have any tip for getting free or inexpensive books?

LEAVE A REPLY
Your email address will not be published.