28 Ways to Save Money
on Thanksgiving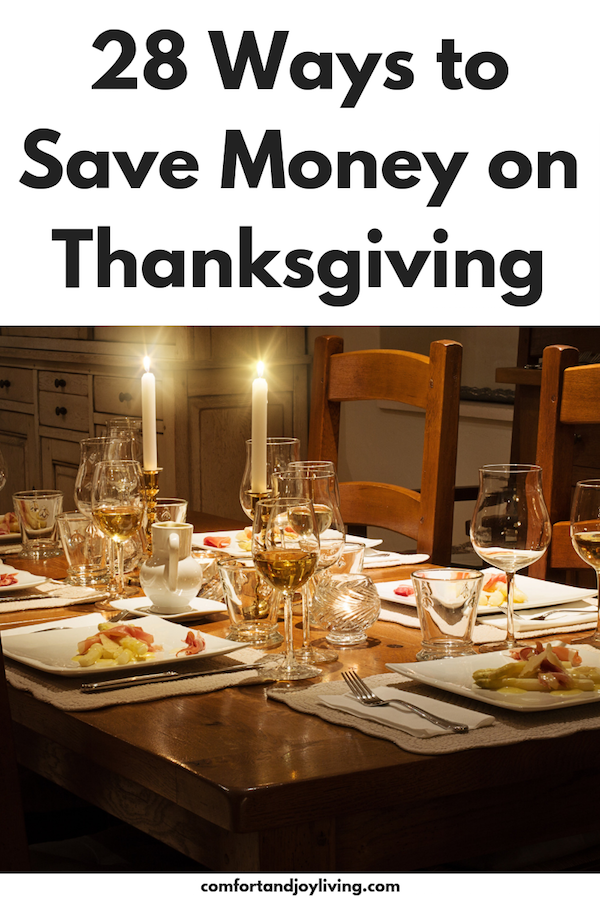 Sure, the table covered with delicious food is pretty wonderful and so is the centerpiece for the day, but all the planning and cost behind your Thanksgiving dinner can take some of the enjoyment out of the festivities. If you tend to get stressed over this holiday, especially if you're trying to stay within a tight budget, then here is a list of things you can do that will make it easier on your wallet.

1. Determine how many guests you'll be inviting early on
This is the first thing that you should do when planning your Thanksgiving dinner on a budget.

Get a final headcount as soon as you can by contacting everyone and requesting RSVP's as early as possible.

Otherwise, if you don't know how many people you'll be serving, you can end up buying too much food. Essentially, getting a headcount early on can prevent overspending.

2. Plan your menu
Planning your menu thoroughly before you make any purchases can help you stay within your budget. 

For instance, say you purchase cans of pumpkin, thinking that you'll make pumpkin soup with it. But then you come across a great recipe for butternut squash soup and decide you want to make that instead.

If you don't plan what you're going to serve for dinner, then you may end up spending more money than you would if you have planned a menu. 

3. Take stock of what you already have
Before doing your Thanksgiving shopping, make sure to check your fridge, freezer and pantry, to see what you already have. You may surprised at how many Thanksgiving ingredients you already have. Doing this may take some time, but it means that you won't waste money buying stuff that you don't need.

3. Cook from scratch
Sure, buying pre-made gravy or instant mashed potatoes will save you time and is more convenient. But, it's also a lot more expensive. You can cut the cost of your dinner by simply making most of your recipes from scratch. And if this is your first time hosting dinner, don't worry there are plenty of great recipes online that also include how-to videos.

4. Buy some things pre-made
Generally, making dishes from scratch is cheaper than buying them pre-made. But, that's not always the case. For some items, it will save you both money and time to buy packaged foods. For example, canned pumpkin and a readymade crust might cost you less than making a pumpkin pie completely from scratch. A can of cranberry sauce might work ut cheaper than making it with fresh berries.

Compare the cost of making a dish from scratch to the cost of making it with pre-made ingredients or buying it ready-made.

5. Use a grocery list
When you write out a grocery list, you tend to spend less. This is because, when you go shopping without a list, you're more likely to make random or impulse purchases. With a list, you're more likely to get just what you need.

6. Stock up early
Did you know that many grocery stores spread out their sales throughout the whole month of November. For example, one week a store will have a sale on turkey and the following week it might have a discount on frozen vegetables. So I suggest that you start stocking up early, otherwise you might miss out on some great deals. Simply look out for Thanksgiving sales when you do your regular shopping.

7. Compare prices
Don't assume that one store is going to offer the cheapest price for absolutely everything. That's why comparing prices is so important. If you want to save money on Thanksgiving, then make sure to compare the cost of the items that you plan to buy at different stores. You may find that you can get a frozen turkey for a few dollars less at another grocery store.

Plus, the deals and sales will also vary.

During the Thanksgiving period, stores all compete with each other to draw in the most customers. This means that they provide a lot of sales and deals. So, if you do all of your shopping at just one store, then you could miss out. Make sure that you do a price comparison on the items on your grocery tore and that you shop at multiple stores.

8. Plan for leftovers
If you make meals using leftovers, you can cut down on your food bill during the days that follow Thanksgiving. Whether it's turnkey sandwiches or potato soup there are lots of meals that you can make with leftovers.

9. Get a frozen turkey
If there's just one simple thing that you can do to save money on your Thanksgiving dinner, it's buying a frozen turkey. They taste just as good as fresh ones do. But the difference is that they're way cheaper.

With a turkey, how it ends up tasting is mostly due to how you cook it. So, don't buy the most expensive one at the store. It won't taste any better anyway! Buy a frozen turkey and save yourself some money.

10. Use cash back sites
When you go shopping for your Thanksgiving dinner, make sure to keep your receipts. There are apps that pay you to upload your receipt. Here are a few that you should check out:

Checkout51
Ibotta
ReceiptPal
Receipt Hog

With apps like Ibotta, you get paid cash back when you purchase certain products. With Receipt Hog, you get paid per receipt.

These apps and websites are great because they save you money by putting cash back in your pocket.

11. Check out grocery store coupons
Many grocery stores offer coupons. These are great tools to help you save money on food this Thanksgiving. Here are a few grocery stores and brands that offer coupons.

Kroger
Aldi
Target
Costco
Walmart
Sam's Club
Trader Joe's
Publix 
Shop 'n Save
ShopRite
Safeway
Hy-Vee
Lucky Supermarkets
Save-A-Lot
Family Dollar
Hannaford
Whole Foods Market
Albertsons
Stop & Shop

Before you head out to do your shopping, check out to see if there are any coupons available for the items that you plan to purchase.

12. Check out coupon websites.
Make sure to also check out the following websites for coupons:

Coupons.com
RedPlum.com
RetailMeNot.com
amazon.com

13. Keep your meals simple
It can seem tempting to try your hand at gourmet meals using expensive ingredients to impress your guests. But simple dishes are jut a tasty and they're less expensive. Resist the urge to make complicated dishes. Stick to the simple classics like homemade rolls and simple mashed potatoes and gravy. People prefer these anyway!

14. Think quality, not quantity
It's tempting to fill our Thanksgiving table with as many delicious dishes as possible. But when you make too much, the food may wind up being wasted. Of course, you can always make leftovers, but leftovers can only last for so long before going bad.

So, consider how much food you really need to serve. Do you really need five different side dishes, or would three be sufficient? Do you really need to make a green bean casserole each year, just because it's a traditional dish, if no one really eats it? Think about what dishes your guests actually enjoy and just make those. Don't feel like you have to make all the traditional foods to have a good Thanksgiving.

15. Minimize the appetizers—or skip them altogether
Thanksgiving dinner by itself is often filling enough. That's why you can cut back on appetizers. People fill up on them and end up wasting food at dinner. So, save yourself some money—and time—and prepare half of what you normally would serve.

16. Buy generic products, rather than name brands
Generally, generic products are usually cheaper than name brands. so, you can save money by opting for store brand items. There's usually no difference between the two. They both taste just as good, but one is much cheaper than the other two.

Important note: Before purchasing a generic product, check for coupons for the name brands. If you have a coupon for a name brand, you may be able to get a better deal than on the generic brand. Especially if you can use both a store coupon with a manufacturers' coupon.

17. Check out the circulars and weekly ads
Many grocery stores run special promotions for Thanksgiving in their weekly ads or circulars. So make sure to check them before going shopping.

You may even get some free stuff! Some stores offer a free turkey if you:
Use a loyalty card
Spend a certain amount of money
Buy specific products

18. Buy in bulk
When you buy in bulk, the cost per unit is usually much lower. When you shop at stores like Costco or Sam's Club, for items like eggs, flour and potatoes, you'll get a lot more for your money. If you're having a lot of guests for Thanksgiving dinner, then you should definitely consider buying in bulk.

19. Use seasonal produce
Vegetables and fruits that are in season, are generally much cheaper than those that aren't. Asparagus, for example, isn't in season this time of year. This means that you'll pay more for it compared to items that in season, like green beans.

So if you want to save some money, you'll want to buy produce that's in season, like:
Winter squash
Sweet potatoes and yams
Green beans
Collard greens
Pumpkins
Cranberries

For a list of foods that are in season during the fall, visit the U.S. Department of Agriculture's website.

20. Use ingredients in a multiple of ways
Try to think of a few ways of using ingredients. For example, if you buy a bag of sweet potatoes, you can use them to make mashed sweet potatoes and also make sweet potato pie with the rest of the bag. This can really help you save money.

This tip is kind of related to the one above. If you buy in bulk, you'll be able to make a few different dishes from the same ingredient.

21. Ask your guests to bring a dish
If you're hosting Thanksgiving this year, then don't assume that you have to prepare everything yourself. Ask each guest to bring a dish of their own. Just make sure to coordinate what everyone's bringing, otherwise, you might end up with a few bowls of mashed potatoes!

22. Stock up on wine
This isn't to help you get through the holidays, but it can help you save. If you're planning on buying a few bottles of wine, consider buying a case instead. Most grocery stores and wine speciality stores offer great discounts when you buy wine in bulk.

Don't want a case of the same exact wine? Not a problem…most retailers will give you the same bulk discount on mixed cases as well.

23. Save on utilities on Thanksgiving Day
To save money on your utilities on Thanksgiving, try to cook multiple dishes together at the same temperature. Cook the side dishes together, or even alongside your turkey. By doing this, you won't have your oven running all day long, and the amount of energy you use is reduced.

 24. Save money on Thanksgiving decorations
Aside from the food, another costly aspect of Thanksgiving is the decorations. From centerpieces to garlands, the price of decorating your home can be quite pricey. One way to save on decorations is to make them your own. Visit Pinterest where you'll find several easy decorations that you can make yourself, and make it even more fun by getting your kids involved. Here are some more ideas.

25. Shop at the dollar store for supplies
One of the best places to shop for decorating supplies is at the dollar store. They carry items like craft paper, art pens and other art and craft supplies for just $1 each. Plus, some dollar stores offer coupons and other deals that can save you even more.

And, of course, you can always get a few readymade Thanksgiving decorations at bargain prices if you don't want to make them yourself.

26. Use what you find in nature
Fall is the perfect time to find stuff to decorate with. From pine cones to fall leaves, you can find so many beautiful items in nature. You can place pine cones in a large jar or vase for a centerpiece or make a garland out of them.

27. Print out decorations
You can find lots of templates for a plethora of thanksgiving decorations that you can use as banners, table decorations and menus. Just do a simple Google search to find ideas.

28. Buy decorations for next year
By purchasing them after the holiday is over, you can get Thanksgiving decorations for up to 90% off. In the days that follow Thanksgiving, retailers drop the prices of decorations by about 70% to 90%. If you don't mind storing stuff in your home, this is one of the best ways to save money on Thanksgiving decorations.

What tips do you have for saving on Thanksgiving?

LEAVE A REPLY
Your email address will not be published.