10 Pantry Staples to Always Have on Hand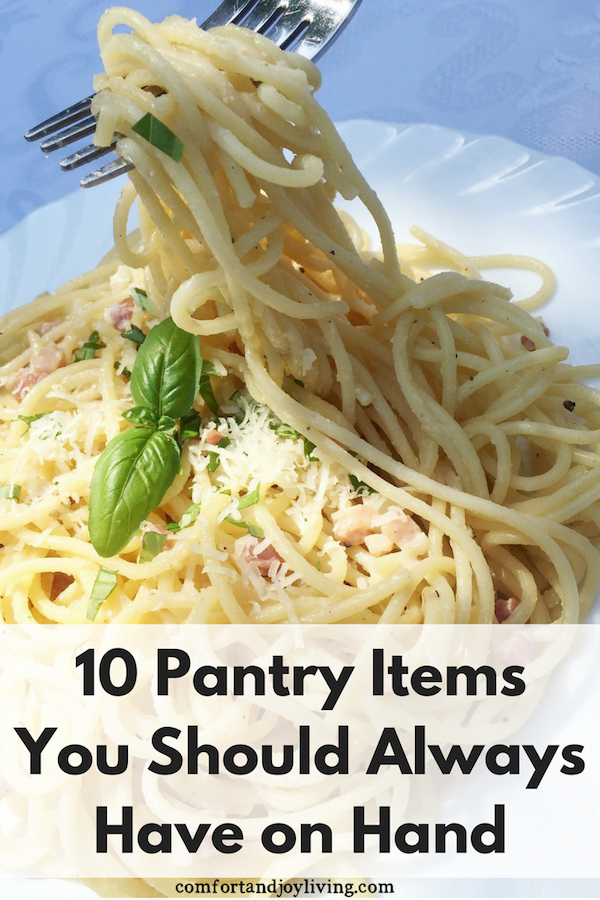 Meal planning around your pantry will help you keep within your grocery budget. When regularly used items go on sale, make sure to stock up on them. And make sure to look at the expiration dates and stock them in your pantry according to the dates, rotating them as you purchase newer items.

To stock your pantry, write an ingredient list for the meals that you make regularly. Take note of mostly non-perishable items, like rice, pasta, dried beans, canned vegetables, sauces, cereals, salt, sugar, and herbs and spices.

These are items that I stock my pantry with and it works well for my family. Your family may have different needs so please tweak where necessary.

1. Canned Vegetables
I love to load up on veggies because not only are they a good source of  vitamins, you can add them to any recipe for a healthy and satisfying meal. But it's not always convenient to stock up on fresh. In addition to frozen vegetables, I like to have canned vegetables on hand for side dishes, casseroles, omelets, pasta, pizza and fajitas.

2. Beans
Beans are a great source of protein and a great alternative to meat. I try to incorporate at least one or two nights of meatless meals. My family loves black bean burgers. They're a healthy alternative to hamburgers and are just as tasty.

3. Rice
Rice is wonderful as a side dish, a great foundation for a casserole or as a main dish like a stir-fry.

4. Pasta
Pasta is a perfect go to dish, because not only is it great as a main dish but it doesn't take long to cook. A quick pasta dish with veggies is perfect for the end of a long day.

5. Stock or Broth
Stock is great for bringing more flavor to dishes, from sauces to casseroles. Buy different stocks like vegetable, chicken and beef so you can add a variety of flavor to recipes.

6. Oil
Oil is an essential ingredient for most dishes, whether you're sauteing vegetables, making baked goods or just want to add a splash of oil to salads for more flavor. Because recipes require different oils, keep a variety of them on hand, like olive oil, vegetable oil and canola oil.

7. Canned Tuna
I can't get my kids to eat a lot of fish, but one type of fish they will eat is tuna. Whether it's a tuna pasta salad for lunch or a tuna casserole for dinner, tuna makes for a healthy and easy meal.

8. Bread
Great for sandwiches for lunch, a grilled cheese sandwich alongside a bowl of soup for dinner, or some French toast for breakfast, having a loaf of bread is always very handy.

9. Oats
You can use oats in a variety of ways—to coat chicken and fish, add to meatloaf as a thickener or on top of casseroles. They're also good in breakfast parfaits or to make a healthy granola snack.

10. Peanut Butter
Peanut butter is both healthy and satisfying. From your basic PB&J sandwich to power balls made with peanut butter, granola and chocolate chips, it provides a great go-to snack. You can use another nut butter like almond if someone in your household has a peanut allergy.

LEAVE A REPLY
Your email address will not be published.