10 Ways to Save at Target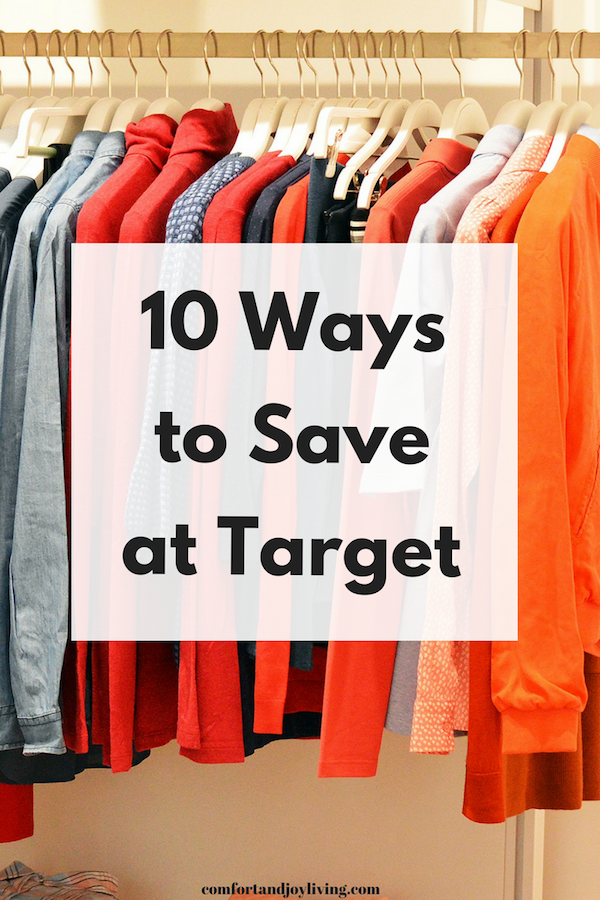 Target not only has some of the best deals, but there are many ways to stack savings to get the lowest prices on merchandise. In all the years of shopping at Target, I don't remember ever paying full price on any of my purchases. And they keep on coming up with even more ways to help you save. Here are 10 ways to maximize your savings at Target.

1. Cartwheel
This app allows you to either use a smartphone or print out your savings at home. First, you find the products you plan on purchasing and then you can claim the offer which is added to your account. Then, shop as usual and when you get to the register, you show the app on your phone to the cashier. They will scan it and the savings will be applied to your purchase. If you don't have a phone, you can give the cashier a printout and they can scan the code that way.

2. RedCard
With RedCard, you will save on every single purchase every time you shop! When you use RedCard (debit or credit), you save 5% on all purchases. You also get free shipping on all purchases you make online.

3. Price Match
Not only can you price match to some stores, but you can also price match to online prices as well. And, you can also still use your coupons too.

Check Target's website for their entire price matching policy.
Here are some general rules:
The item must be the same brand, size, weight, color, quantity and or model number in order to be price matched.
If it is for a competitor ad, it must be the in the original ad and valid the date that the price match is requested (meaning you can't use an old ad or upcoming ad).  If you are matching Target.com prices, the retail price must be valid on the website at the time you make your purchase.

4. Stack your coupons
What's great about this is you can stack your coupons and use REDcard too for additional savings. You can use up to 3 coupons on a single purchase.

Here are ways to get discounts.
Target Store coupons
Target Cartwheel coupons
Manufacturer's coupons
Target REDcard discount

5. Gift card promos
Every week, there are offers that provide shoppers a gift card with their purchase. When you make a purchase of select items (at least 2 or 3, sometimes 4) you can earn a Target gift card for $5.

6. Price reduction differences
Make sure to look for items with Temporary Price Cuts which are often not advertised. Read the tag to learn how long the promotion will run for.

7. Clearance
Target places merchandise on clearance quite often. You can find these on the end cap displays. The discounts start at 15% off and increase from there. You can check the Target clearance tag not only for the discount, but to also see if the price will be reduced any further.

8. Rebate sites
Another great way to increase your savings—on top of discounts and coupons. Visit sites like Ibotta, ReceiptPal and Snap! by Groupon to save more. These sites pay you after you make purchases. With Ibotta and Snap! by Groupon, you first have to claim offers and then make the purchase. With ReceiptPal, you just have to make the purchase.

9. Rain Checks
If you want to buy an item that's on sale, but the item becomes out of stock, make sure to ask for a rain check. Then you can purchase the item at the reduced price once it's back in stock.

10. Weekly deals
When something is on sale, use all the above tools with the weekly deals that Target offers to maximize your savings.

LEAVE A REPLY
Your email address will not be published.