How to Prepare for a New Baby
on a Small Budget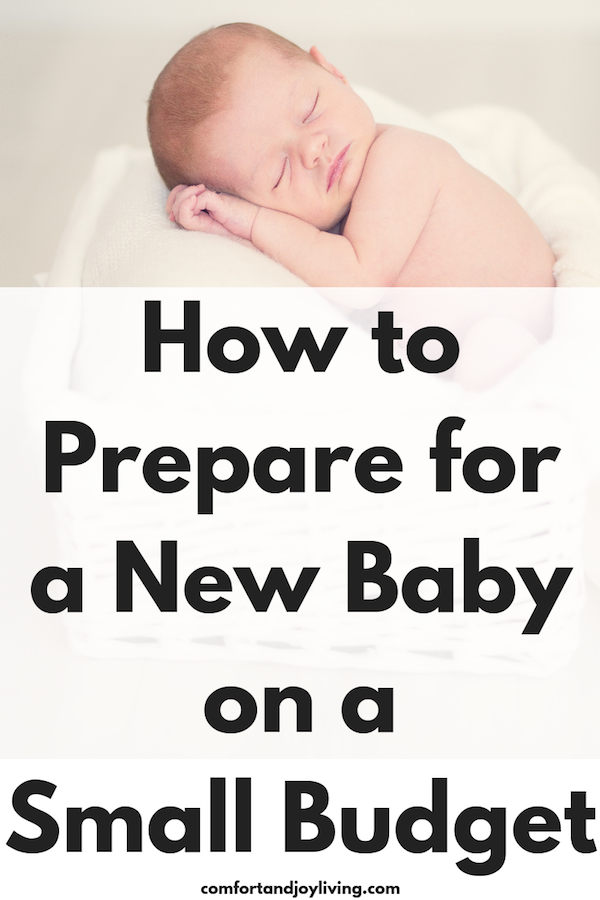 As a first-time mom, I wanted to buy almost everything I saw that I thought would make my baby as happy and comfortable as can be. The cost of a sweet bundle of joy can quickly add up, even if you have a baby shower. With some savvy tips though you can easily set up for your baby without breaking the budget.

• Look for Gently Used Items
You can likely find baby items from family members and friends whose baby days are over and they'll be more than happy to give them to you.

Your next source should be consignment stores, online and garage sales. Most baby items that you find will be nearly new and in great condition, so it's perfectly ok to buy secondhand to save money. Its important to note that there are some items that you should not buy secondhand such as crib mattresses and car seats. Buying these secondhand can pose a serious risk to your baby unless you know their history.

• Go for Dual Usage
When making purchasing decisions, consider the quality of the items as well as their usage life. There are convertible cribs that transform from crib to toddler bed to a full-sized bed and could be used for many years. Some high chairs are also convertible—lengthening their life span as well.

• Infant Feeding
There are many health benefits for both mom and baby, but there is a financial advantage as well. For those who are unable to breastfeed, look online for a "baby club" that are sponsored by your preferred formula company. They will often send you free samples as well as coupons which may even be sent monthly.

• Homemade Food
Store-bought baby food can be expensive even on sale. Homemade is quite easy to make and you have more control over what you feed your baby. It requires a blender or food processor, a steamer or pot, ice cube trays and freezer bags.

• Items to Skip
If you're not sure you're going to need an item, then simply go without. You can always buy it later if you find you need it. Some items you may want to think twice about include change tables, gliders, bath tubs, bath thermometers and scratch mittens.

Adult bath tubs are safe for baby as long as you draw a shallow bath for your baby to lie in. You can use your elbow as a thermometer—the temperature is perfect when you submerge your elbow and it feels either neutral or just slightly warm. Newborn socks can easily be used as scratch mittens and are far more functional.

Your bed is a perfect surface combined with a change mat for diaper changes. You can also use a change pad secured to a dresser. Gliders do look great in a nursery, but generally won't get used as much as you think—even if you plan on nursing.

• Baby Showers
When creating your baby registry, don't be afraid to add big ticket items such as a travel system. Often, groups of your family and friends will be happy to go in together to get these items for you.

• Cost-Effective Wardrobe
Babies grow so fast. Don't make the mistake of investing in a lot of clothes all in one size. Don't invest in higher priced items such as winter coats too far ahead until you hit 2t and up as they may not fit come winter. Choose gender neutral clothing as much as possible if you plan on having future children to maximize the use of hand-me downs. Again, secondhand can help you with huge savings, so ask family and friends, visit consignment stores and mom to mom sales to build your baby's wardrobe. Chances are, most used clothing will have barely been worn as again, babies grow quickly.

If you purchase or receive new clothes for your baby, be sure to leave the tags on and keep them unwashed until the items are needed. Most children's stores will allow you to exchange unworn items for another size.

• Diapers
Diapers can be a huge expense until your child is potty trained. Luckily, there are some great ways to save on diapers.

Take advantage of sales, and when you see a great deal, stock up. You can get generic diapers on sale at a good price. You can use coupons for brand name diapers. I love Amazon Mom because I can get name brand diapers for almost as cheap as generic brands and free 2-day shipping is included!

Pampers offers many ways to save via print-at-home ad in-store coupons, app deals, and subscription services such as Amazon Subscribe and Save. You can save on a variety of Pampers products including Pampers Swaddlers, Pampers Cruisers, Pampers Easy-Ups, Pampers UnderJams and more.

Do you have a tip to share with other readers? 

Hello, I'm Kelly, a regular contributor on this blog. I live in Pennsylvania with my loving husband and our five beautiful children. I have a background in early childhood education, but I am currently homeschooling my kids. From pregnancy to postpartum to toddler life, I love sharing advice with other moms who are having a challenging time with this crazy but wonderful role of motherhood.

LEAVE A REPLY
Your email address will not be published.