15 Things You Should Do Before
Your Baby Turns One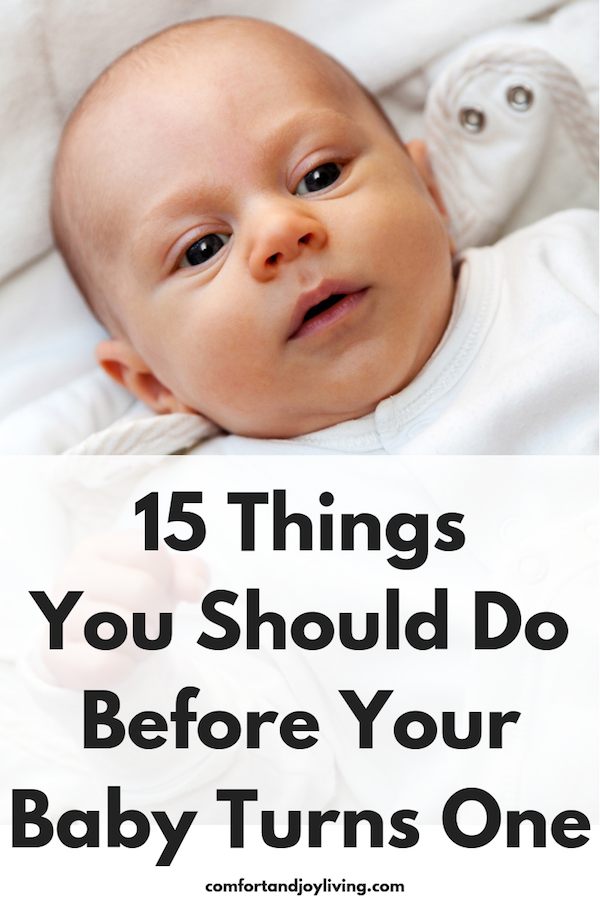 Having a baby is wonderful, emotional and hard all at the same time. Before you know it, your sweet bundle of joy is turning one! Life can get chaotic and the first year goes by so fast, so make sure you do these 15 things with your baby before they turn one.

1. Make a handprint or footprint keepsake. We forget how tiny their fingers ad toes are those first few months. Make a keepsake with their hand or footprints before they get bigger in ink or with a casting.

2. Find a great babysitter. Whether you get out of the house often or not in that first year, you want your baby to become familiar with the person that will watch them in the future. Find a good sitter that you trust with your child in that first year.

3. Sing to your baby. Not only do babies love your voice, they love to hear you sing to them. Try to sing to your baby as often as you can. Singing helps develop the brain and enhances their learning.  Learning songs are great ways to teach the alphabet, numbers, shape and colors.

4. Take lots of pictures. Take as many pictures as you can before your sweet bundle turns one. These months fly by so fast and before you know it, you'll want to go back and reminisce on those days.

5. Get professional pictures taken. You can have all the pictures you want on your phone, but there's nothing quite as satisfying as having those first pictures professionally taken. Schedule some time to get professional pictures of your baby before they turn one.

6. Go swimming in a pool. The more you do with your baby in that first year, the less scary it is as they get older. Let your baby experience playing in the water so as they get older, it will just become a habit.

7. Read to your baby. Reading is great for all kids, but the younger you start reading to them, the better. By fostering the love of reading with your baby as soon as you can, they will love to read as they get into their toddler years.

8. Document their milestones. From when they first lift their heads and first tooth to their first steps—you never get those back so make sure to document them when you see them.

9. Take a trip to the zoo. Before your child turns one, you have to visit the zoo at least once. Take pictures of your baby's favorite animals and save them for later.

10. Get messy. Before that big birthday cake, get out the shaving cream, paint or edible play dough and get messy. Get in some messy fun so your baby can fully enjoy the messy experience when it's time to play in the cake.

11. Have a playdate. Just because your baby isn't old enough to talk doesn't mean he or she won't enjoy other babies. Having a playdate with other babies helps to encourage developmental milestones.

12. Play music with pots and pans. Babies love music, but as much as they love listening to it, they also love playing it. Let your baby play some music with some pots, pans and wooden spoons.

13. Videotape your baby. When my daughter was a few days old, we had her newborn photos taken. The photographer told us to record her newborn cry. I thought that was a great idea and I also captured her first giggles and continued to film her laugh as she grew and changed. I love watching these videos now and showing her the videos as well.

14. Travel with your baby. The earlier, the better. The older babies get, the more complicated it gets to travel. Things like solid food and baby-proofing can be tough on the go, so I would recommend traveling with your baby while they are still tiny and have very simple needs.

15. Make a baby book or memory box. You're going to want to remember this moment for the rest of your life and be able to look back on all these wonderful moments with your child when they grow up. Whether it's a traditional baby book full of pictures and hand-written notes or a memory box with their first soother, baby shoes and a tiny hat, putting together a momento of your child's first year of life is a great idea.

Hello, I'm Kelly, a regular contributor on this blog. I live in Pennsylvania with my loving husband and our five beautiful children. I have a background in early childhood education, but I am currently homeschooling my kids. From pregnancy to postpartum to toddler life, I love sharing advice with other moms who are having a challenging time with this crazy but wonderful role of motherhood.

LEAVE A REPLY
Your email address will not be published.