10 Ways to Keep Your Toddler Busy
to Have Some "Me" Time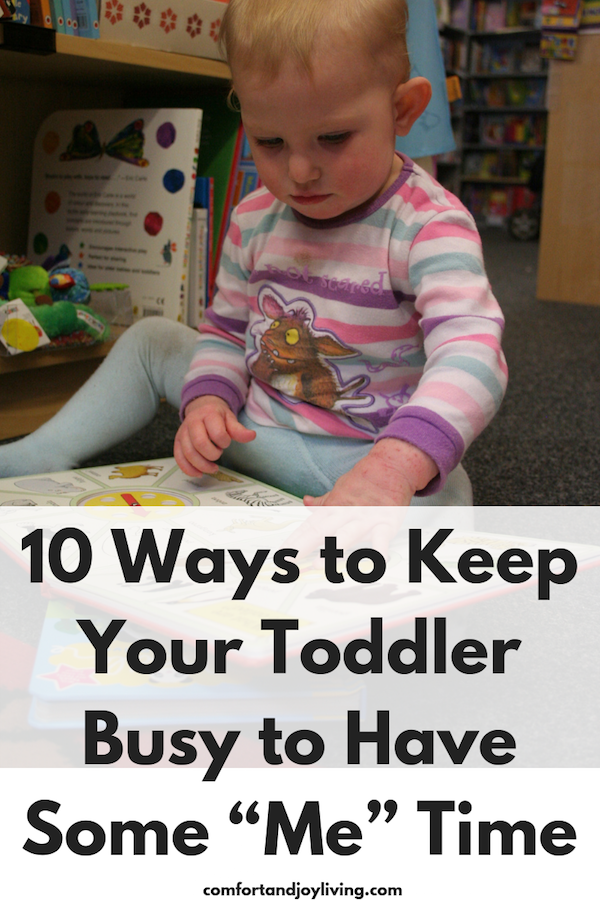 As moms, sometimes we just need a few minutes of "me" time, whether it's 2 minutes to lock yourself in the bathroom to get some quiet, or 15 minutes to take a shower. That time can help keep us going day in and day out. However, getting some "me" time is not always easy, whether your child is whining because they want a snack or they want you to get a certain toy from the bottom of the bin. If you are in desperate need of a few moments to yourself, check out these ideas to keep your toddler occupied.

1. Bottle and Cap Matching
Collect a variety of plastic bottles you use, from water bottles to shampoo bottles. Set up the activity by removing the caps and have your child match the caps to the right bottles. It will get your child thinking and figuring things out and keep them entertained.

2. Pasta Shape Sorting
Place different shape pasta (you can also use different colored pasta) in a plastic bowl or container and have your child sort the pasta by shapes and colors.

3. Bean Bins
Fill a plastic container with beans, add some scoops and cups and let them scoop to their heart's content. Just make sure to watch young children as they may put beans in their mouth.

4. Pom Pom Sorter
There are so many crafts that you can make with pom pom balls, but one of my kids' favorite activity as toddlers was to play with them. Here, you'll have your child sort them by color or size. Take a few paper towel rolls and write names of colors or the words "small" or "large" on them. Then tape them to a wall at your child's eye level and have your child sort the pom poms.

5. Magazine Scavenger Hunt
Put those old magazines to use by giving them to your toddler. They may just tear them apart, but it will at least keep them occupied for a while. For kids that are a little older, you can have them search for things like boys, girls, toys, etc.

6. Sewing Buttons
Take larger buttons and some thick string and keep in a box to give to your child when you need a minute to yourself. They can thread the string through the holes on the buttons. This is a great fine motor skill activity.

7. Pipe Cleaner Sewing
I saw this on Pinterest and it works like a charm. Give your child a colander and some pipe cleaners and let your child stick the pipe cleaners through the holes in the colander. This will keep your toddler concentrated and distracted for quite some time.

8. Cardboard Box Coloring
Kids enjoy coloring, especially on items other than paper. As a mom, I have learned that the hard way when my wall was starting to become a canvas. Take a large cardboard box, place it on its side and let your child crawl inside with crayons and color inside the box.

9. Musical Pots and Pans
This activity won't give you "quiet" time, but if you're not concerned about the noise and you just need a few minutes alone, put out some pots and pans. They can hit them together or give your chld a wooden spoon to drum on them.

10. Special Box of Toys
It's a good idea to have a box of toys on reserve for only special times of play, such as when you need some quite time. Since your child will  only get to play with these toys once in a while, he'll be so excited when you bring the box out.

Hello, I'm Kelly, a regular contributor on this blog. I live in Pennsylvania with my loving husband and our five beautiful children. I have a background in early childhood education, but I am currently homeschooling my kids. From pregnancy to postpartum to toddler life, I love sharing advice with other moms who are having a challenging time with this crazy but wonderful role of motherhood.
LEAVE A REPLY
Your email address will not be published.