10 Quick and Healthy Breakfast Ideas
Your Kids Will Love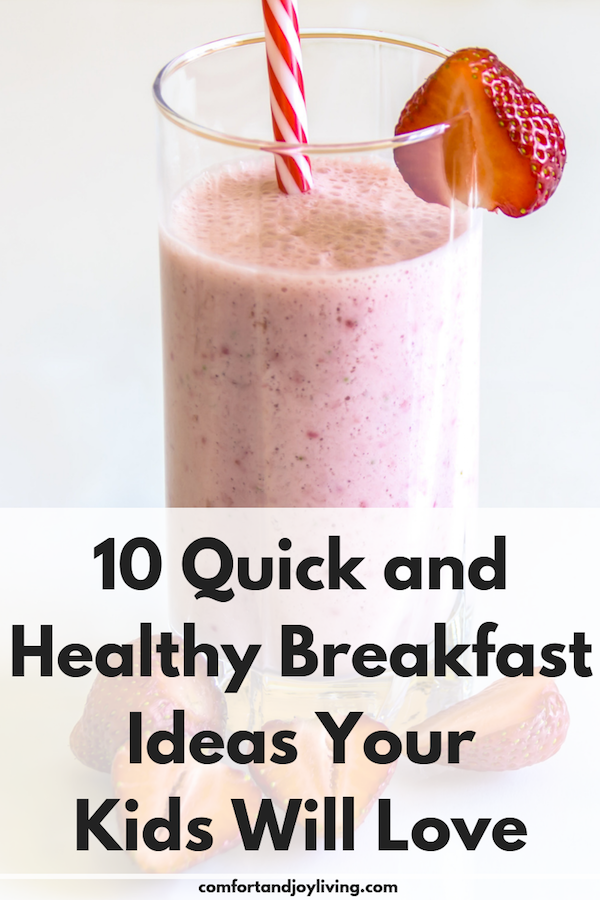 Are your mornings too busy for a healthy breakfast? To make mornings and breakfast quick and healthy, sometimes I like to make grab and go breakfasts. I also like breakfasts that I can prepare the night before. Whatever breakfast your family prefers, these ten ideas will get your family out the door in time with everyone's tummies satisfied.

1. A bowl of grain cereal.
A bowl of grain cereal can be quite healthy. Just look for the ones with low sugar. Cereal can also be taken on the go in a baggie if you're in a hurry.

2. Overnight oatmeal.
Add oatmeal to some Greek yogurt the night before and it will ready in the morning. Add some fruit before serving.

3. Fruit bowl.
My kids love all kinds of fruit, so we love making fruit bowls for breakfast including sliced melon, bananas, strawberries, blueberries and sliced apples.

4. Peanut butter and wheat toast.
Peanut butter provides a great source of protein. Use another nut butter like almond if your child has a peanut allergen.

5. Smoothies.
Smoothies are a healthy, quick and convenient breakfast. Just mix yogurt or milk and fruit, eat right away or take it with you.

6. Yogurt with granola and fruit.
Add in your favorite fruit like raspberries and blueberries and some granola for a great crunch.

7. Sliced avocado and wheat toast.
Avocado is a healthy alternative to butter and it is very filling.

8. Fruit to go.
For a quick breakfast, place grapes or sliced apple slices in a bag. You can make these ahead of time and ready to go.

9. Veggie omelet.
Chop vegetables the night before. You'll be ready in the morning for a quick and delicious breakfast.

10. Breakfast quesadillas.
Start with a whole wheat tortilla, add peanut butter (or another nut butter) and sliced banana.

Hello, I'm Kelly and a regular contributor on this blog. I live in Pennsylvania with my loving husband and our five beautiful children. I have a background in early childhood education, but I am currently homeschooling my kids. From pregnancy to postpartum to toddler life, I love sharing advice with other moms who are having a challenging time with this crazy but wonderful role of motherhood.

LEAVE A REPLY
Your email address will not be published.