15 Ways to Make Money with Your Car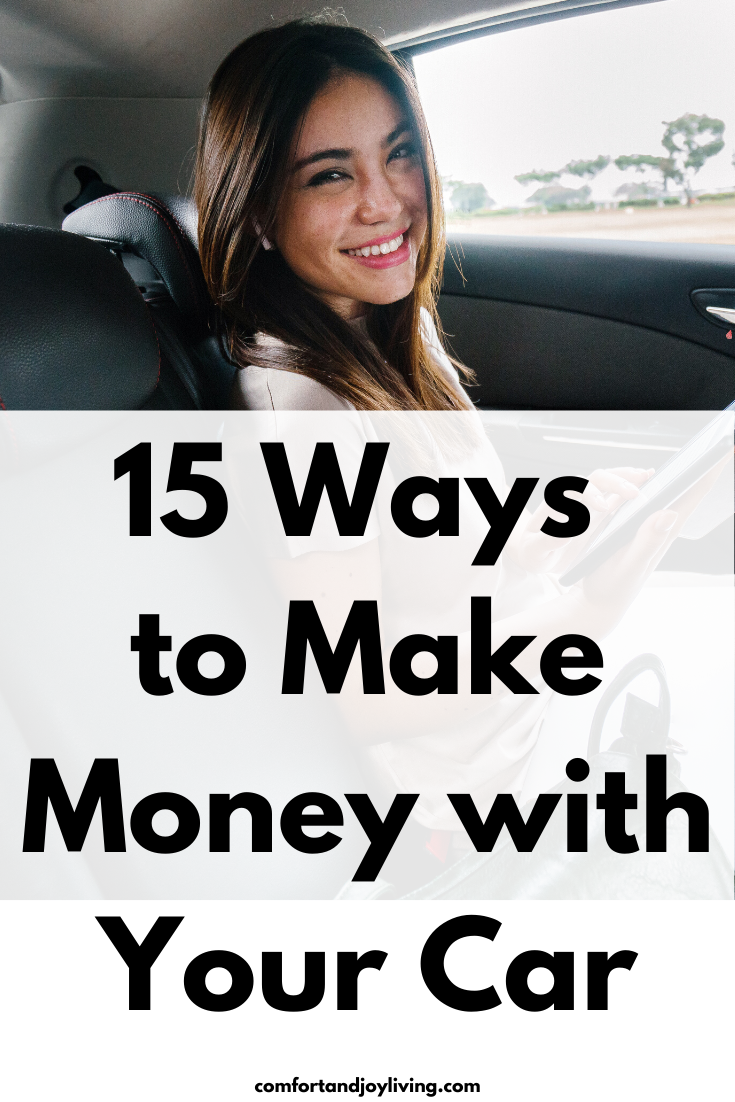 Have you ever wished that you could get paid to drive your own car? Believe it or not, there are several side jobs that give you that opportunity. In fact, some jobs that pay you to drive are not only great side gigs, but are perfect for stay-at-home moms or parents that have irregular schedules and small blocks of free time.

So if you are happy driving around in your car and think that you may be up for getting paid to drive, this list is for you. All of these part-time jobs give you the chance to make money driving, and for the most part, on your own schedule.

1. Uber
With Uber, you essentially become a taxi driver, but with your own car. You get to set your own schedule and have the ability to pass on rides that you don't feel comfortable with.

2. UberEATS
UberEATS is part of Uber, but with some extra perks. As as UberEATS  courier, you deliver food for other people. You set your own schedule, drive your own car, and can even have other people tag along with you.

3. Lyft
Lyft is just like Uber, only a little less known. One of the best things about being a Lyft driver is that you can also be an Uber driver. Two side jobs where you do the same thing.

4. Turo
If you have an extra vehicle that you don't need to use regularly, you should take advantage of Turo. Turo lets you rent out your car to local drivers that need it for the day. So you basically get to earn money without actually doing anything. Turo is perfect for anyone that has an extra vehicle or works from home and doesn't need to use theirs regularly.

5. HopSkipDrive
HopSkipDrive is a driving service for transporting kids. Drivers must be at least 23 years old and have five years or more of childcare experience. Drivers must pass an extensive background check as well as have references.

6. Getaround
Like Turo, Getaround allows car owners to rent their cars out to people in their vicinity. Owners set the hours that your car is available, so if you work 9-5, you can set the availability of your car while you're at the office or when you get home after work.

7. TaskRabbit
TaskRabbit is a great side hustle because the options are virtually endless. TaskRabbit links up people who need jobs done with people who can do them. And, if you want to make money with your car, that means running errand for people.

8. Amazon Flex
Did you know that you can deliver Amazon packages in your spare time? Flex drivers set their availability and blocks of time to pick up packages and make deliveries. There is no set amount of hours and drivers can change their availability as needed.

9. Postmates
Postmates is a food delivery service where derivers an set their own schedule and work when they want by signing into an app. Drivers must be 18 or older and have their own transportation (car, bike or scooter) or be willing to walk and carry items to be delivered. Drivers keep 100% of tips.

10. DoorDash
DoorDash is another food delivery service, but unlike Postmates, it's for food deliveries only, meaning the app will only connect drivers with restaurants and customers, not grocery stores and other shops.
11. DoorDash requires to undertake a background check and have at last one year driving experience and an insured vehicle. Drivers keep 100% of their tips.

12. Grubhub
Grubhub is a food delivery and pickup service that offers drivers a flexible schedule. Drivers must be at least 19 years old in most areas (21 in Chicago) and have 2 years of driving experience. Drivers must pass a background check and have a checking account for direct deposit of their paycheck. As a driver, you keep 100% of the tips and you set your own hours.

13. Instacart
Instacart is a grocery delivery service that also offers workers a chance to do shopping for customers who pick up, so there's no car required. Drivers do both the shopping and delivery and must have their own car. Delivery drivers set their own hours on a flexible schedule. Drivers also keep 100% of their tips.

14. Shipt
Shipt is an on-demand grocery delivery service. Drivers must be 18 years old with a reliable vehicle. Drivers must be able to lift 40 pounds and are asked to provide a cooler or insulated bag for cold grocery deliveries. Drivers must also pass a test on their knowledge of brands and groceries, such as produce.

15. Car Advertising
It doesn't get much easier than getting paid to put ads on your car. As companies look for cheap advertising alternatives, many people have started to pay regular citizens to put ads on their car and just continue to drive their normal routes. My Free Car is one place where you can apply for these opportunities to see if you're a fit.
Leave a comment. Your email address will not be published.