10 Items Around Your Home
That You Can Sell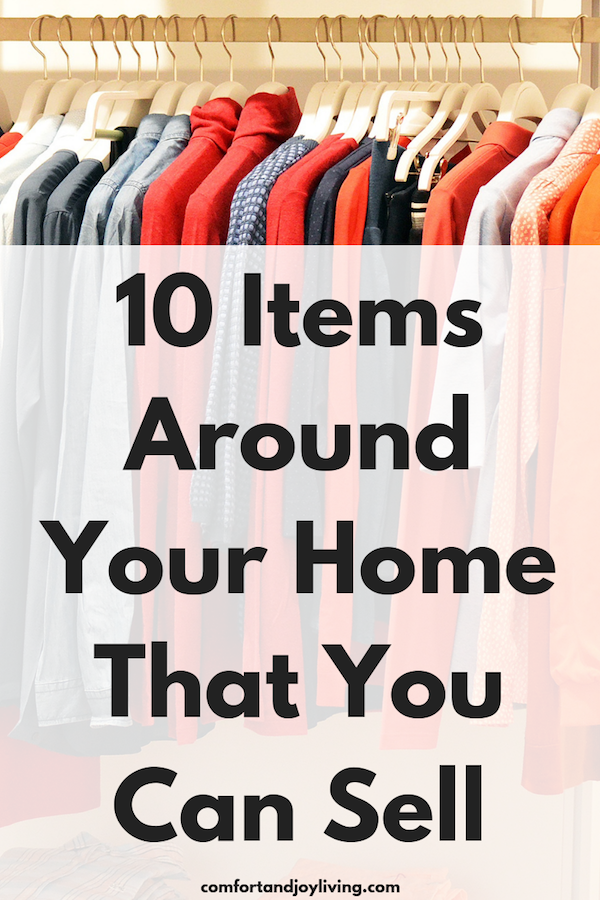 We recently finished with our spring cleaning and wound up decluttering and getting rid of a lot of stuff. My first instinct was to just throw everything out since that would have been a lot easier. But I noticed that most of it was in good condition and figured it would be a shame not to make some extra money by trying to sell the items.

If you're decluttering your home and have items that are still in good shape, you're better off trying to make a profit from them than just throwing them out. If you're just throwing stuff out, you're also throwing money away. Don't think that just because something is used, that you won't be able to sell it. People are always willing to buy a used item for a more affordable price than pay full price for something new. Here is a list of items that you might want to try selling.

1. Clothing
If you have kids, you know that they outgrow their clothes so fast. Thrift shops are great for my kids' clothing and mine too! You can also go online and sell your clothing on sites like ThredUp or Poshmark.

2. Electronics and Appliances
Do you have an extra cell phone that you haven't used in a while? Just make sure to erase any data on your computers and phones. Try gazelle.com for computers and cell phones.

3. Furniture
If you have pieces of furniture that you want to unload, try Craigslist, local Facebook groups or varagesale.com, a local online garage sale. If you have a piece that's a little outdated, try giving it a makeover with some paint so you have a better chance of selling it, and at a higher price.

4. Books
Used books are very easy to sell. Go to a local used bookstore or try thrift stores.

5. Movies and CDs
First try a video store in your area if there is one.

6. Baby Gear
Most couples don't have a large budget for their little bundle, so items that they can buy at a good deal is greatly appreciated.

7. Toys
My kids outgrow their toys pretty quickly so I try to sell them to get my money's worth.

8. Gift Cards
Many of us carry around gift cards in our wallets that we never use.

9. Power Tools
We made a pretty penny from my husband's circular saw that he just had to have and promised would get a lot of use out of. He used it once and it has been sitting in our garage.

10. Random Items
eBay and Listia are great for random household items. On Listia, you can trade in your stuff for credits.

LEAVE A REPLY
Your email address will not be published.