Snowman Math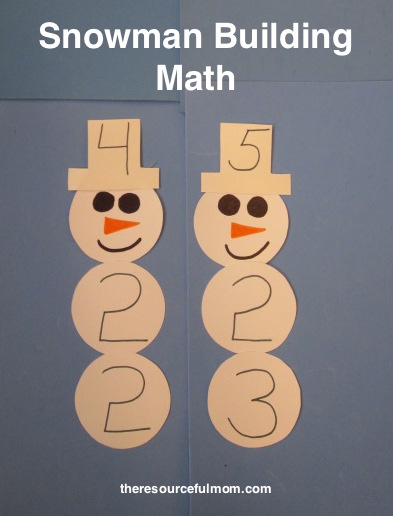 This snowman building math activity is so easy to set up and your child will have so much fun with it, he or she may not even realize that they're doing math problems.
For this activity, you will need:
White construction paper
Black and orange magic marker
Scissors
For the snowman heads, cut out circles and draw eyes and mouths with a black magic marker and noses with an orange marker. Cut out hats (depending on how many math problems you want to work on) and write sums on each hat. Place them in random order on the table. Cut snowballs (two for each sum) and write numbers that add up to those sums. Place each group of snowballs underneath the snowman heads. When your child is ready, have him or her look at both numbers under each snowman and place the hat with the correct sum on the snowmen.
For more of a challenge, you can place the hats on the snowmen's heads first and place the snowballs in random order. Have your child build snowmen by placing the snowball numbers that add up to each sum.
Check these other snowman learning activities:
Snowman Lower/Uppercase Letter Matching

Hello, I'm Kelly, a regular contributor on this blog. I live in Pennsylvania with my loving husband and our five beautiful children. I have a background in early childhood education, but I am currently homeschooling my kids. From pregnancy to postpartum to toddler life, I love sharing advice with other moms who are having a challenging time with this crazy but wonderful role of motherhood.

LEAVE A REPLY
Your email address will not be published.