22 Meal Prep Ideas That Will
Help You Lose Weight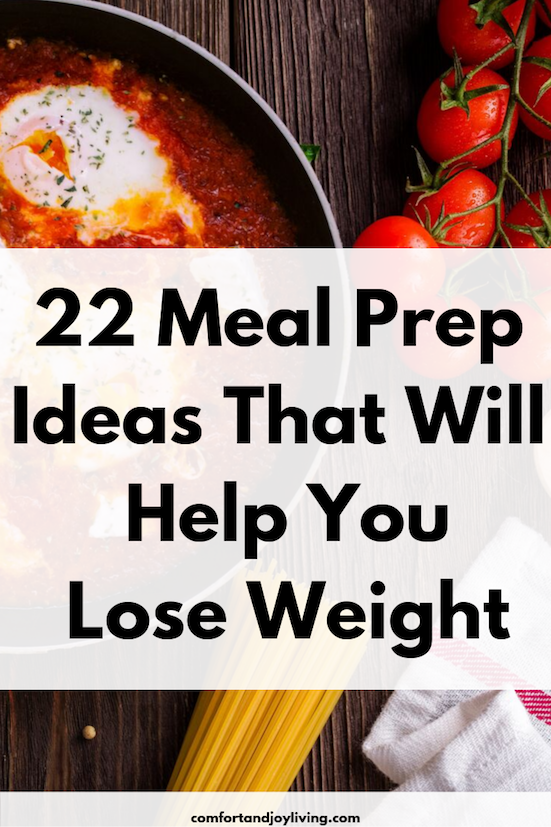 Preparing meals can be so time-consuming. It's so important that our families are nourished, but sometimes the thought of throwing a frozen pizza in the oven, or even better, having one delivered, The problem with those quick meals though is that they are killer for your waistline. That's why I'm sharing these meal prep ideas so that you can lose weight, and save time and money.

Whenever I go on a health kick, meal planning is my saving grace. I find that I eat unhealthy when I wait until I'm hungry to make food, instead of planning out my meals ahead of time. But with meal prepping, you can also save time and money while eating the healthy foods that yo love.

Here are 22 ideas that will help you lose weight with meal prepping.

1. Prep Once a Week
Designate one day a week to do all of your grocery shopping and food prep. I suggest doing this on the weekend so you free up time throughout the week. It may seem like a huge project, but it means that you'll only have to chop up your ingredients once a week. It's definitely one of the best life hacks.

2. Keep a List of Go-To Meals
There are some meals that are favorites in your household, while others don't make the cut. Having a list of go-to meals can really save you time, especially if the meals quick and easy to make. You should also have a list of meals that have ingredients that overlap so you don't have to buy a ton of different items when you go grocery shopping.

3. Roast It Up
Roasting vegetables is one of my favorite cooking techniques to make life easier. You can roast up a large batch of veggies to use throughout the week. You can use them for sandwiches, salads and soups, or eat them on their own. Some of the best vegetables to roast are eggplant, zucchini, cauliflower, broccoli, peppers, potatoes, onions and mushrooms.

4. Always Make a Grocery List
Don't go grocery shopping when you're hungry and always bring a grocery list that you make ahead of time. This will help to keep you from buying unnecessary items that aren't good for you. A grocery list also keep you on budget so you don't mindlessly spend on foods that you don't need.

5. Repurpose Leftovers
Consider foods that can be repurposed for leftovers for evenings later in the week. For example, a fajita or an omelet make great vehicles for leftover vegetables. Serve with a simple side salad or soup and you'll have an easy and delicious meal.

6. Keep a Well-Stocked Pantry
By keeping some of these basic essential on hand, you only need to pick up fresh items when you shop.  Here are a few examples of some healthy and versatile foods to keep in your pantry:

Whole grains: brown rice, whole wheat pasta, quinoa, oats, bulgur, polenta
    Legumes: canned or dried garbanzo beans, black beans, lentils, pinto beans
    Canned goods: low-sodium broth, tomatoes, tomato sauce, corn, tuna, salmon, chicken artichokes, olives, fruit (no added sugar),
    Oils: olive, avocado, coconut
    Baking essentials: baking powder, baking soda, flour, cornstarch
    Other: Almond butter, peanut butter, potatoes, mixed nuts, dried fruit


7. Shop Your Pantry First
Before you sit down and make a meal plan, take inventory of what you already have on hand. Check your pantry, refrigerator and freezer, and make note of any foods that you wan or need to use up.Doing this helps you go through the food that you already have, reduces waste and prevents you from unnecessarily buying the same things over and over again.

8. Set a Timer—and Stick to It
Meal prepping can seem so overwhelming, and if you're not careful you can spend the whole day prepping meals. I feel that you should keep your meal-prep sessions short. I set a timer for two hours on Sunday mornings. I get as much as I can in those two hours, and then I go enjoy the rest of my day and happy that I prepared myself for the upcoming week. You'll be amazed at how much you get done in that time.

9. Use Shortcuts
The biggest misconception with meal prep may be that it means making everything from scratch. So not true. Meal prep des't mean that you have to rice your own cauliflower if you don't want to. You can still stock up on shortcut staples like rotisserie chicken, canned chick peas and black beans, cauliflower rice, frozen brown rice, zucchini noodles, and pre-cut butternut squash. These will help ease your prep and make sure that you don't spend hours in the kitchen every Sunday.

10. Cook Batch Grains
Cook a few batches of whole grains, such as brown rice or quinoa, and then divide the grains into meal-size portions to freeze. When you're ready to reheat them, you'll have your own healthy "minute" rice.

11. Learn to Multitask
When people are first starting to food prep, they tend to focus on doing one thing at a time, which is fine, but it will often take a lot longer for you to get your food prep done and it can be discouraging. After you've done it a few times and start to get comfortable, using multiple parts of your kitchen at once is a game changer. I usually have something cooking on the stove, something in the crockpot, something roasting in the oven and I'm working on something on the counter all at the same time. This will allow you to get more done in a shorter period of time.

12. Batch Cook
If you haven't started batch cooking, it will be a game changer for you. Batch cooking is a very helpful technique that saves you both time and money. You basically prepare and cook a bunch of meals and store them, whether you eat them that week or put them in the freezer for later.

13. Use Meal Prep Containers
If you want to meal prep on a budget, you need to have the best meal prep containers. There are different types of meal prep containers, from containers that compartmentalize your foods so that you can prep your meals for each day of the week, i.e., put protein in one section, veggies in another and grains in another, to individual containers that you can store different veggies, meats, grains and fruits in.

14. Use a Slow Cooker
If you're looking for a simple, yet effective tip for meal prep, the slow cooker will save you so much time. If you haven't invested in one yet, take the plunge, it is so worth it—check out this one, this one and this one! All you have to do is throw in your meats, veggies, spices and liquid, and slow cook them for 4 to 8 hours while you're out and about.

15. Buy Seasonal Produce
Buying produce that's in season saves you money and ensures that you're getting the freshest vegetables and fruits. You can buy foods like berries and zucchini in bulk ad freeze them for when they're out of season.

16. Use Mason Jars
From overnight oats to salads, burrito bowls, lasagna and noodles, mason  jars are a great way to meal prep. Mason jars are easy to bring with you when you're on the go and they help keep food fresh throughout the day.

17. Don't Forget Snacks
Our snacks can be the most unhealthy food of our day. Grabbing a bag of chips or a muffin are empty carbs that satisfy you for only a short time. Prep foods like fruit, veggies, and nuts to eat as snacks.

18. Freeze It.
You don't just need to think short term when it comes to meal prepping. It's also helpful to prepare for meals down the road. There are times when life gets more hectic than others, and it's nice to know you have an already prepared meal when you're in a pinch. One trick that you can use is saving one or two portions when you batch cook so that you'll have prepared food on those extra busy days. Casseroles, lasagna, rice dishes, enchiladas, chili, soup, and macaroni and cheese are great meals to make and freeze. Just make sure to date them so that you know when they're good until.

19. Get Creative with the Same Ingredients.
There are so many to get creative with the same ingredients. If your family loves chicken, you can use different spices and marinades to create different chicken dishes for throughout the week. For example, you can create Asian-inspired chicken stir-fry one night and chicken tacos another. You can also use the same marinades on different meals like shrimp, beef , and tofu.

20. Prep for Smoothies
Smoothies are great meal ideas for weight loss. You can have them for breakfast or as a healthy snack. You can pre-portion smoothie ingredients and use frozen fruit when you're short on time. They're super nutritious and filling, especially if you add protein.

21. Coordinate your fridge.
Coordinate your fridge so that it's easy to pull out meals quick. One way to organize it is assigning each shelf to different meals—breakfast, lunch and dinner. You can even label each meal with the date that you plan to eat it. so you can switch things up and keep it interesting.

22. Make a Meal Schedule
Having a meal schedule will help you decide what you're going to eat each day of the week. Perhaps you do Meatless Mondays, Taco Tuesdays, Pasta Wednesdays, etc. This way, you'll know what you'll need to prep for each day. You can switch things up so you don't have the same exact meal each time, but this way you won't have to spend too much time thinking about it.