10 Ways to Look Stylish on a Budget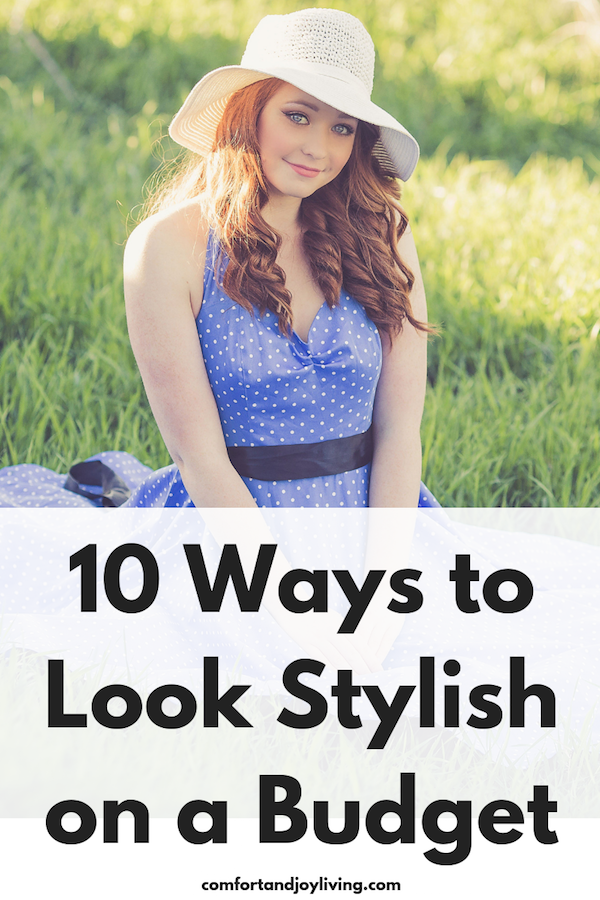 Being stylish while staying within your budget isn't as hard as it may seem. With a little creativity, you can save money and still look and feel great on any budget—no matter the size of your budget.

1. Avoid Trends
Okay, this one is obvious—avoid trends since they come and go so fast that you end up wasting a lot of money on clothing that's outdated before the year end. But, I also get that it can be stylish and fashionable to be trendy. So how can you be trendy without breaking your budget?

Instead of buying trendy clothing, purchase trendy accessories such as jewelry, scarves and hats. Unless you can get a good deal on trendy shoes, I wouldn't recommend getting shoes that are too trendy.

This way, when the trend is over, you don't have to go out and purchase a whole new wardrobe. You can just swap out the trendy accessories for something else.

2. Be Timeless
I'm a firm believer that all women should own three black classic pieces—a little black dress, black heels, and a strand of pearls. But these don't have to cost you a fortune. You can get a strand of cheap (i.e. fake) pearls that look exactly like the real ones. And black heels are so versatile that you can even find them at Goodwill.

When it comes to a little black dress, I recommend that you find a dress that works well with your body figure and try to keep it simple—no patterns or trendy style. This is one item that may be worth spending a little extra on since most of us girls can own a black dress for years or even decades. This is also why you don't want this dress to have any kind of pattern or be trendy, so that you can wear it to multiple occasions like weddings, parties, Christenings, business events, etc., and not look out of place.

Classy is always in style, which is why I suggest that you own these classic pieces and try to keep them for as long as possible.

3. Know What Colors Flatter You
I don't know about you, but I know that there are certain colors that look terrible on me and some that look great. By knowing what colors and patterns look best on you, you can save not only a lot of time shopping, but also a lot of money.

Instead of wasting money on that pretty cardigan in light green that looks great on your best friend, you'll now that since light green does not look a great on you as it does on her, that you should avoid purchasing that particular cardigan in light green. This will also help to keep your impulse shopping at bay.

4. Buy the Basics
This is another obvious one, but it bears repeating. Make sure to have some basics in basic colors in your closet. Basics are items like jeans, camis—they work great as undershirts, cardigans, scarfs and even different style shoes—heels and sandals.

I suggest getting these in some basic colors like white, black, beige and grey. By having a few camis in basic colors, I'm able to to wear certain tops and dresses without worry.

Having heels that are only in basic colors like beige and black, I'm always certain that I have the right heel for the right dress. This helps keep your closet from becoming full of shoes that you have nothing to wear with them.

5. Invest in Quality
On of the mistakes that I made several years ago was thinking, "Wow, I can get 10 camis in different colors for less than $2 a piece—that's incredible!" The problem was that I failed to really take notice of the quality of those camis and ended up wasting money on camis that fell apart after only a couple of washings.

Saving money is great, but be careful to not waste money in the long run by purchasing poorly quality items. It's better to spend a little bit more money on one well-made item than to send less on a few lesser quality made items.

6. Buy Used
I love shopping at thrift stores and consignment stores because I always find great clothing for so much less than at a retail store. This is a great way to be able to afford name brand clothes without the hefty price tag. And it's my recommendation for anyone that's in need of quality clothes for work, a a special occasion, or business event because you'll usually find high-quality clothes for the same prices—and sometimes lower—of lesser quality clothes.

7. Shop Sales, Clearance, and Off-Season
I'm sure you've heard this advice countless times,, but it's great advice and bears repeating—shop for clothes when they're on sale, on clearance racks, or off-season—which usually means it's on a super amazing sale.

If you know which colors look best on you and which ones don't, shopping the clearance racks are so much easier because you'll know to not waste your time picking up that light green shirt regardless of how cute or marked down it is because it's not going to good on you.

Something that I've noticed with a lot of retailers—not just clothing ones—is that they'll sell the exact same items for a much cheaper price online than in the physical store. So, before you head to the checkout line, go on your smartphone and check online for that same shirt to see if it's a lower price online, and if it is ask the store to honor it.

8. Use What You Have
One of my favorite way to use what I have and make a new outfit out of it is to take a top that I usually wear with jeans and pair it with a skirt. So for example, I would take a cami and cardigan that I usually wear with jeans and instead of putting on jeans, I'll put on a skirt.

It may surprise you how creative you can be with pieces that you already hanging in your closet. It just takes a little effort to put together, but you may find some new favorite outfits by stepping out of your comfort zone and pairing items that you would never have thought to pair before.

If you need inspiration to help you long, look through magazines or fashion blogs for new ideas or even look through Pinterest.

9. Use Coupon Codes and Cash-Back Sites
When you're on a budget, using coupons when shopping will help you save big. You can find dozens of coupon codes online at sites like RetailMeNot.com for your favorite stores. Cash back sites like Ebates allows you to earn cash back by shopping through their links. Make sure to take advantage of sites like these to get the clothing that you want at the prices that you want.

10. Sign up for email alerts
Visit your favorite retailer online and sign up for email alerts to get deals delivered to your inbox. You'll get special coupon codes, sales notices and exclusive offers that the general public might not get. Another way to get clothing from your favorite stores and not pay top dollar. Also, follow these stores on social media where they'll also post special promotions and exclusive offers.

You don't have to break the bank to look stylish—it just takes a bit of creativity and you can look fantastic on any size budget.

What tips do you have for looking great without spending a fortune?

LEAVE A REPLY
Your email address will not be published.