Low Carb Buffalo Chicken
Spaghetti Squash Casserole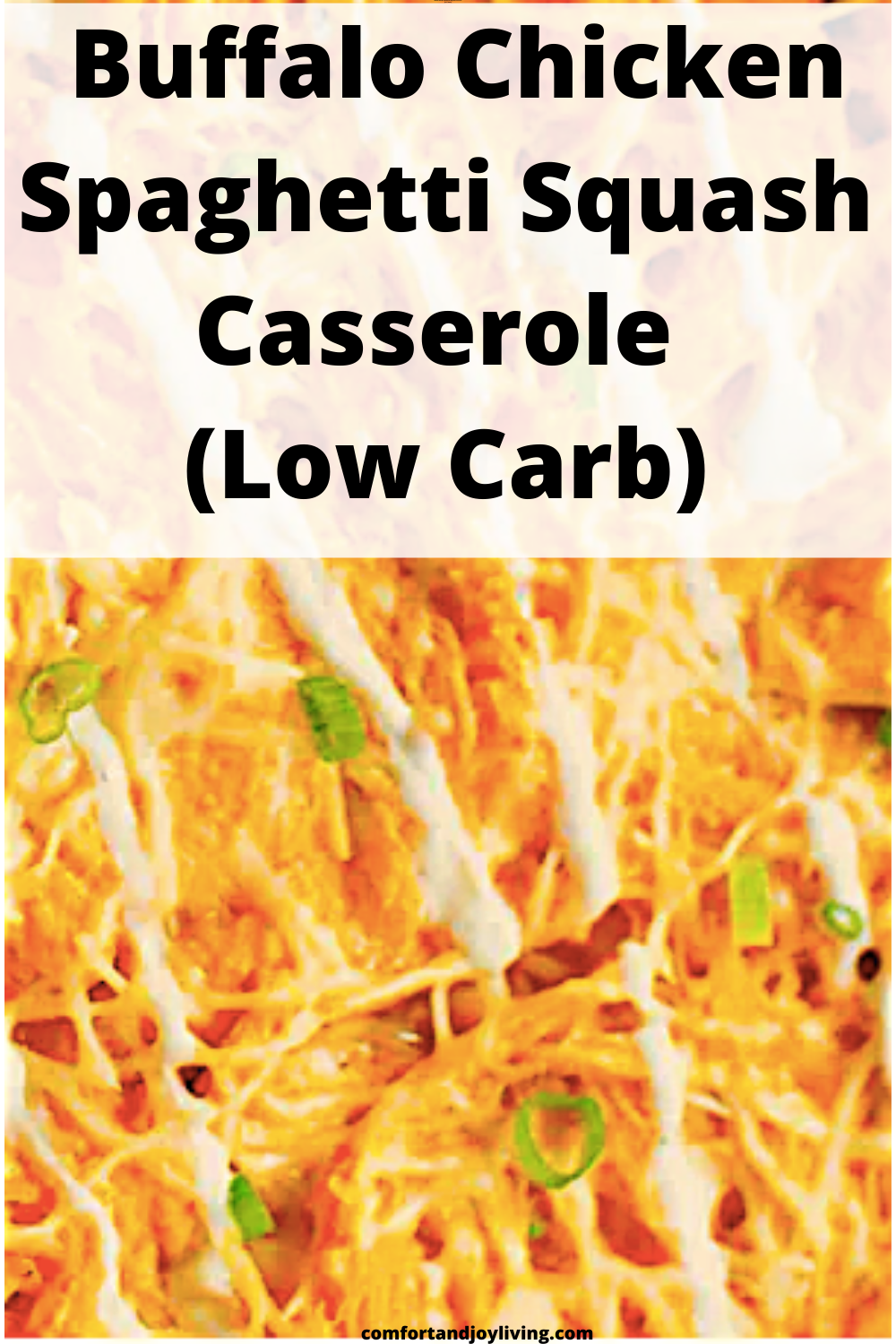 Prep Time: 10 minutes
Cook Time: 40 minutes
Total Time: 50 minutes
Servings: 6 servings

1 medium spaghetti squash
2 cups chicken, cooked and shredded
1/3 cup Franks RedHot Buffalo Wing Sauce (or buffalo sauce of choice)
1/3 cup ranch dressing (plus more for drizzling, if desired)
1-1/2 cups freshly grated cheddar cheese, divided
4 oz cream cheese (softened)
Green onions, for garnish (optional)
Blue cheese crumbles, for sprinkling on top (optional)


Pre-heat oven to 400ºF degrees.
Slice the spaghetti squash in half lengthwise and scoop out the seeds.
To prevent sticking, dab a little olive oil on the cut sides of the squash.
Place the squash cut side down on a baking sheet and bake for 30-35 minutes until fork tender.

While the squash is baking, in a large bowl, mix together the buffalo sauce and ranch dressing. Add the chicken, 1/2 cup cheddar cheese, cream cheese, and stir to combine. When the squash is done cooking, use a fork to remove the spaghetti strands and add to the chicken mixture. Stir to combine.

Transfer the casserole mixture to an 8x8" casserole dish. Top with remaining cheddar cheese. Bake for 10-15 minutes or until hot and bubbly.

Drizzle with ranch dressing, and sprinkle with green onions and blue cheese crumbles before serving.

Nutrition Information: 
Amount per 1 serving     
Calories 180
Total Fat 9.5g      
Saturated Fat 5.4g      
Cholesterol 61mg      
Sodium 617mg      
Total Carbohydrate 2.9g      
Dietary Fiber 0.4g      
Total Sugars 1.2g      
Protein 20.2g

Extra ranch dressing, green onions and blue cheese crumbles are not included in nutrition information as they are optional.
Disclaimer: The nutritional information provided on recipes is given as a courtesy and as approximate only. We cannot guarantee the accuracy of the nutritional information given for any recipe on this site. Nutritional information varies per brand/product. 

Leave a reply.
Your email information will not be published.