How to Host a Successful Clothing Swap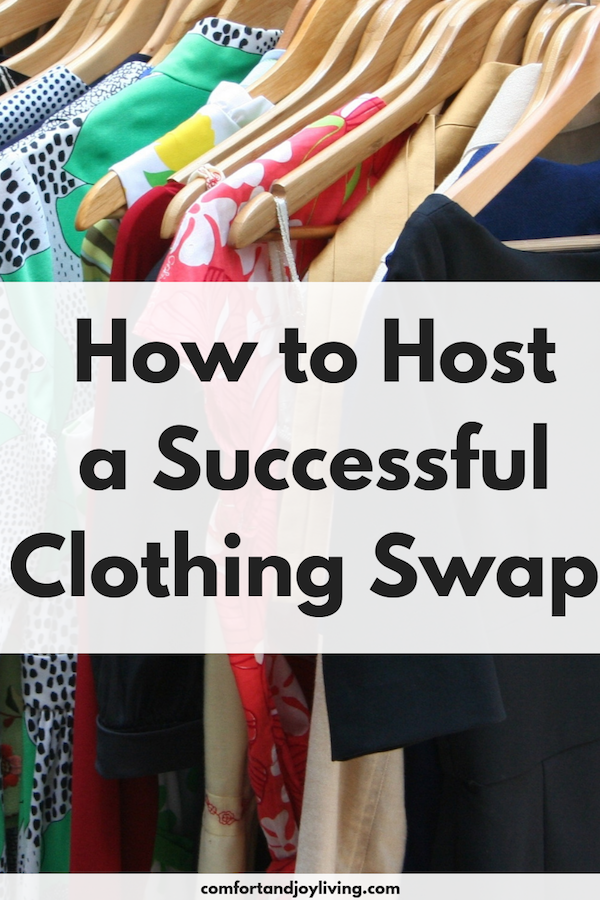 A few years ago, some friends and I started hosting clothing swap parties. And although I love shopping at my favorite stores, I've really come around to the idea of swapping clothes. It's a great way to upgrade your wardrobe without having to break your budget and you get to meet new people. It's a win-win. It's also a great way to get rid of those impulse buys and "goal" items hiding in the back of your closet. You know the ones I'm talking about.

Throwing a clothing swap party at home is a lot of fun and quite easy to organize. Just follow these steps and you and your friends will have a whole new wardrobe before you know it!

The best time to host a swap party is at the beginning of a new season because people are more likely to want to clear out their wardrobe and get some new pieces then. Give invitees plenty of time to go through their wardrobe and send out invitations out at least two weeks in advance. 

You may want to set a minimum and maximum of items that each guest can bring and include this information on the invitations.

Try to keep your guest list to 10-12 people if you can. Any more than that and things can get a little chaotic. Clothing swap parties are good ice breakers, so go ahead and invite new friends.

It's also a good idea to stipulate that all items must be clean, quality clothes that are in good shape (no missing buttons, broken zippers, etc.).

Swap accessories too
Encourage your guests to bring accessories to swap too. By having accessories available (purses, shoes, jewelry, etc.), it helps ensure that your guests don't go home empty-handed. This is especially helpful if all of the women are vastly different in size and shape, since these items are easier to fit a wider range of people.

Set some guidelines
If you just let your guests show up and start trading clothes, not everyone might have a chance to check out the items. To avoid this, you can set up some sort of lottery system where numbers are drawn out of a hat to determine the order in which each participant selects a piece of clothing.

Set the Scene
The easiest way to display the clothes is on portable racks. It gives the illusion of a shop and gets your guests in the right mood when they arrive. If this isn't an option you can hang some rope around the room to create makeshift racks. You can also display the clothes on tables.

Try to group different categories together and create areas dedicated to tops, dresses, pants, etc. It will make the browsing process much easier and create some order—at least until everyone starts throwing clothes everywhere.

You will need one or two mirrors so that everyone can see how the clothes look on them. You can ask guests to borrow theirs if you need an extra one.

If you're hosting at your home, you can use your bedroom or bathroom as your changing rooms. Otherwise, create makeshift changing rooms in the corner of the room using a screen, curtains or whatever you have handy.

Have plenty of hangers on hand as well as shopping bags for people to take their new items home.

The Party
Put on some upbeat music to get everyone in the mood.

When the guests arrive, welcome them with a drink and offer to display their clothes for them.

Take a few minutes to go over the rules—for example, "everyone is allowed the same amount of clothes she brought", if two people want the same thing, then we'll toss a coin to decide who should get it"—and start swapping.

If anyone seems a bit shy at first, encourage them to try on some item, even if it's just for fun. Or become their personal stylist and gather some clothes for them to try on.

Food and Drinks
It's a party, so definitely have some food and drinks

Bite-sized appetizers are perfect for this kind of party as they're quick to eat and less likely to end up on clothing. You can also serve food on skewers or with toothpicks so it's easier to handle. And you can always ask your guests to bring something, to cut down on your own spending.

Champagne cocktails is aways a nice option, and also make sure to have plenty of non-alcoholic beverages as well.

At the end of the party, offer to donate any leftover clothing to a local charity. Chances are most women won't want their clothes back and you might make someone else pretty happy.

Have you ever been to or hosted a clothes swap party before? Did you find any treasures?

LEAVE A REPLY
Your email address will not be published.