How to Get Ready for Holiday House Guests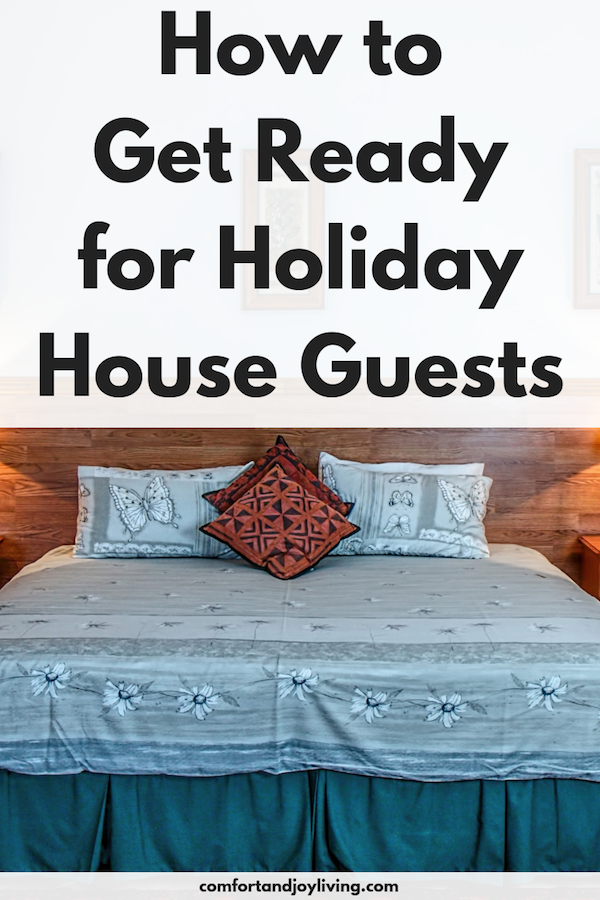 Are you a little nervous and needing to get ready for house guests? If so, don't stress! I know that it's easier said then done. Here are some simple and frugal tips to get ready for your house guests.

Prepare the bedding
Each time we have guests, I try to make sure that the bedding in the guest room is appropriate for the season. In the warm weather, I'll place a coverlet on the bed, but in the winter, I put extra blankets comforts in the room, and even an electric blanket for especially cold nights.

Clear closet space
Whether it's a set of drawers, a few shelves or a closet, it's always nice to offer your guests a place to put their belongings so they don't have to live out of their suitcase.

Assemble a snack basket
I like to prepare a small basket of snacks for my guests to place in the guest room. I usually include bottles of water or juice, fresh fruit, crackers, snack bars and a few chocolates.

Provide necessities
This includes towels, soap, shampoo and conditioner, toothpaste (I also keep extra toothbrushes in case guests forget theirs), extra toilet paper, air freshener, an alarm clock, a laundry basket, and anything else that your guests might appreciate.

Have food and beverages easily accessible—some people must have their morning coffee/tea and a small treat before bedtime. In case my guests are early risers, I'll leave out cereal, bowls and spoons on the counter if they wake up earlier than me. I also always ask my guests before they arrive if there's any food preferences they have so I can have them on hand. If your guests are planning on joining your family for meals, ask about any allergies, special dietary requirements, etc.

Make a list of restaurants and excursions your guests may enjoy.
I keep a folder in our guest room of tourist-targeted pamphlets and restaurant menus that I picked up around town. This is helpful for finding places to go and things to do when we have visitors, and also gives them choices instead of me having to plan the schedule without input.

A few more tips…
Make sure to tidy up your home before your guests arrive.
Place flowers in the guest bedroom; during the holidays, you can hang a small fresh wreath up.
Place some magazines and books in the room that your guests might enjoy.
Write your Wi-Fi password on a piece of paper and place it on a desk or nightstand.
Give your guests some privacy in the evenings and early in the mornings.

What tips do you have for preparing for house guests?

LEAVE A REPLY
Your email address will not be published.