16 Ways to Organize with Storage Hooks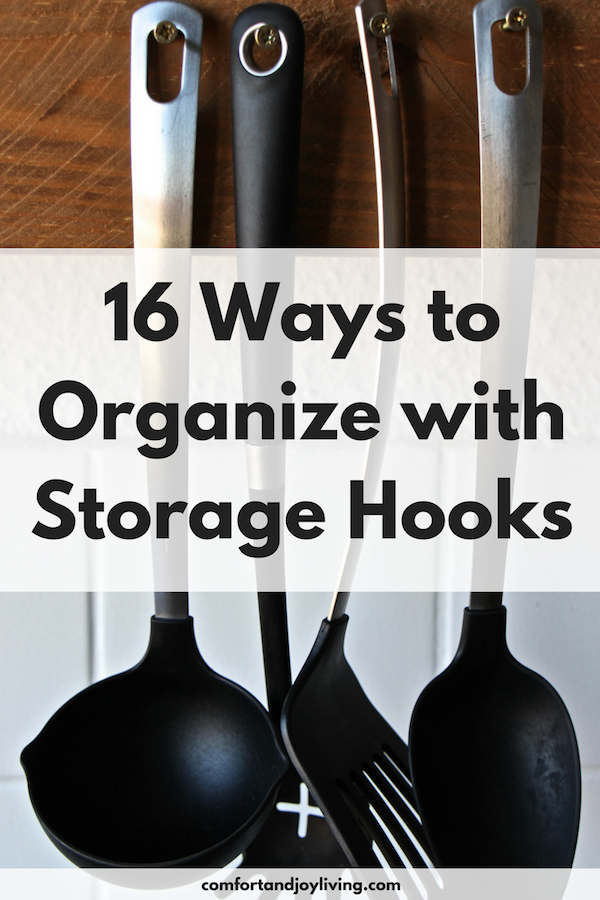 Chances are, you've likely used a storage hook to hang a piece of art before—they're the go-to method for hanging wall decor in a rental, door room or other space where drilling holes and repainting the walls is a no-go. And while they're a great solution for renters and students, there are many more ways to use them. Removable hooks can be used to organize and decorate things in every room of your home. Here are 16 ways to use these hooks.

1. Add some hooks under your kitchen or bathroom sinks to hold items like spray bottles, cleaning brushes and cloths.

2. Use medium-sized hooks to hook the cables of your electronics down the legs of your furniture for a cleaner, more organized look.

3. Hang small hooks on their side to place toothbrushes in the bathroom. Hang them on the inside of your medicine cabinet for easy access.
 
4. Use large decorative hooks to hang curtain rods. You can put curtains up without drilling a single hole!

5. As long as the tile in your shower is properly cleaned and prepped first, you can use hooks to hold shower necessities. Don't forget to use a removable strip that is designed for the humidity of bathrooms or this hack will fall flat.

6. Place hooks in your kitchen to hang pots and serving utensils

7. Hang a large hook in your closet door to hang your belts. They'll be easy to look through when you're picking an outfit.

8. Always misplacing your sunglasses? Keep them by your door by hanging them from two small hooks that you can place side by side.

9. Pot lids are so aggravating to store. You just need three hooks—two for the bottom of the lid and one for the side of the lid to hold it in place. You can hang them on the inside of a cabinet door on on a wall.

10. Hang a hook near your front door to hang your house and car keys. You'll never have to scramble to find your keys.

11. Use a hooks and binder clips to hang up your kids' artwork. Create an "art gallery" that you can easily change out or take down anytime.

12. Attach a hook upside down on either side of the can and wrap the pull string of the garbage bag around the hooks.

13. Keep plastic wrap and aluminum foil within reach by hanging two hooks on the sides to secure each roll inside your cupboard door.

14. To make a crowded entryway more efficient, add hooks to hang handbags and backpacks.

15. Are you tired of your jewelry always becoming a tangled mess? Use removable hooks to hang your collection to easily find the right pieces to accessorize your outfit.
 
16. If you have a collection of shoes with heels, hang a curtain rod between two hooks and there you have somewhere to hang your shoes.

LEAVE A REPLY
Your email address will not be published.