10 Simple Ways to Transform Your Home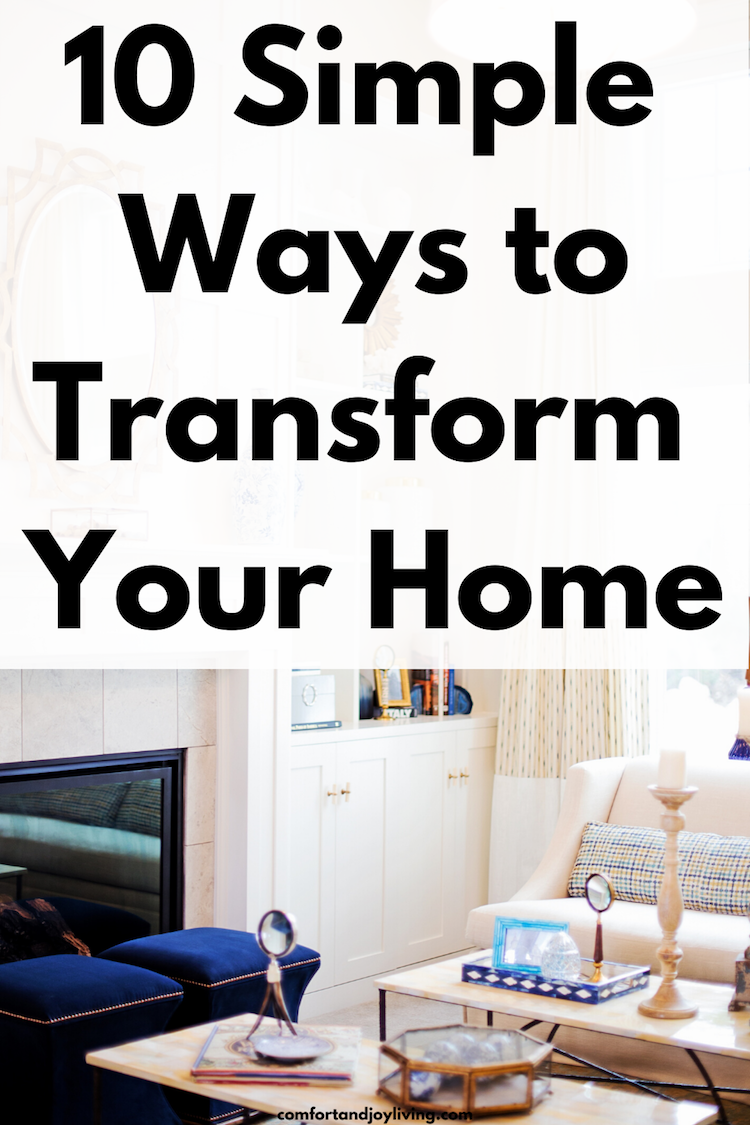 Giving your home a makeover doesn't require a lot of time or money. These tips will help you declutter, get organized and create a more clean and comfortable living space.

1. Create Collection Areas
A simple way to declutter is to create collection areas. Use nice containers or baskets and place them in areas where clutter accumulates the most.

2. Tame the Table Clutter
Our kitchen seems to be the main collection area in our home. I'll work on our bills there and my girls will sit there and do their homework while I'm making dinner. Try to keep the dinner for it's primary use: having meals with your family. If you need an extra surface, try a card table. That way, you won't have to rush anymore to clean the table off for dinner.

3. Clear Off Your Counters
Between appliances, dishes and paperwork, kitchen counters seem to attract the most clutter. If your counter is overwhelmed with stuff, clear it off. Try it and you'll see how  how open your kitchen will look!

4. Get the Dishes Done
Keeping up with dishes and pots will not only keep your kitchen more organized, but it will make you feel less overwhelmed. Getting your husband and kids to pitch in will be a big help, too.

5. Mix Up the Media
We had such a large collection of DVDs, video games, magazines and books in our home until my husband and I decided to sell and donate most of our pile and switched to the digital format for everything. If your media collection has taken over, opt for the online versions and just keep what you read or watch regularly.

6. Streamline the Surfaces
Over the years, I've accumulated a large collection of figurines and knickknacks that I acquired as gifts and during our vacations. While I cherish these items and feel that they add a nice touch, they can also make an area seem cluttered. If you have too many trinkets on your shelves, try putting them away, leaving maybe a few favorites. After awhile, you'll hardly miss them, and you'll notice how much less dusting you have to do.

7. Pare Down the Pillows
I love decorating with throw pillows. They add warmth and comfort to a home without a huge price tag. But they can also make a space look cluttered because they wind up being thrown all over, making a room look messy. If you have the same problem, put them away, and your family room will look more clean and comfortable.

8. Declutter Your Desktop
Paperwork can easily pile up and before you know it, gets out of control. Invest in a filing system so you can separate your paperwork by categories. Better yet, scan paperwork so you can keep a digital file, keeping only necessary documents.

In addition to physical documents, virtual documents can clutter your computer desktop. Create virtual folders and categorize them. Also remember to backup all your important documents.

9. Make Your Bathroom Beautiful
The bathroom sink and vanity can become such a cluttered mess, especially when you have to rush out the door in the morning. Try to keep it organized by using a Lazy Susan for makeup and perfume. Keep an extra towel on the rack to wipe off surfaces.

10. Use Your Bed Just for Bedtime.
Besides disrupting your sleep, hanging out in your bed—working, watching TV, folding laundry—can add to a disorganized area. Use your bed for sleeping and keep your bed tidy otherwise.

LEAVE A REPLY
Your email address will not be published.