12 Ways to Make Your Hair Look Thicker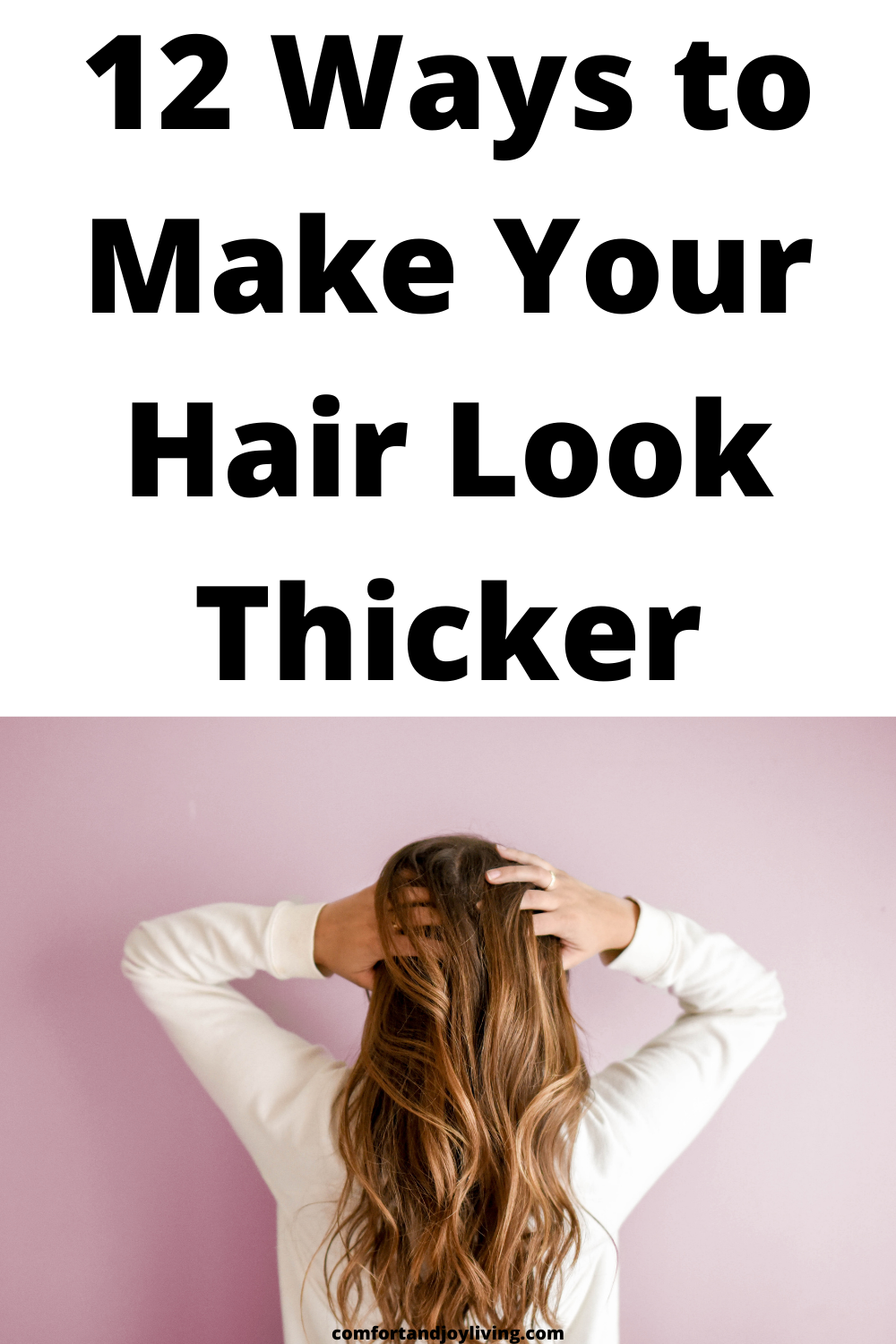 If you have thin, fine hair and want to know how make it look thicker and fuller, these tips for thin hair are for you. From different blow drying techniques using color to add depth and dimension and choosing the right haircuts and hairstyles, these ideas will teach you how to make your hair look more voluminous instantly.

1. Dry your hair upside down
To easily get fuller body, when blow drying your hair, flip your hair upside down and dry it so that your roots are going the opposite direction. The reason this works is because your roots are lifting off your scalp, and will give your hair instant lift.

2. Switch your hair part
Another easy way to get more volume is to flip your hair part. If you've always worn your hair parted on the right, consider flipping it to the left. Changing your hair part to the opposite side gives instant volume at the crown.

3. Back brush your hair
Using a brush or fine-tooth plastic comb, gently back-brush or backcomb your hair at the roots to create volume. Pin up the upper layer of your hair and lift hair in small sections and backcomb each section three times. Use some hair spray to keep it in place and let the upper layer down.

4. Lift your roots
Adding lift at the scalp is one of the easiest ways to create lots of volume to your hair. Add a volumizing mousse to the roots to lift your hair and brush through the ends to distribute it well. Use a hair dryer and a brush to lift the hair at the root and lock in volume.

5. Put in some rollers
Adding few soft curls or waves is a great way to add volume and body to hair. You can use a curling iron, but rollers are best for boosting volume. Just using a few rollers throughout the crown of your head will give you full and bouncy hair in no time.

6. Try a shorter hairstyle
One of the easiest ways to create an impression of thicker hair is to trim it a few inches. Longer hair can weigh your hair down, so it's a good idea to keep it a short or medium length to give it more volume. Consider asking your stylist to add layers which will give your hair more movement and volume.

7. Add highlights
Highlights rough up the cuticle, which gives hair some texture and volume. In addition, strategically placed highlights can add depth and dimension to your hair, making it appear fuller.  Talk to your stylist about the most flattering highlights for you and the overall effect you want.

8. Use dry shampoo
No time to shampoo? No problem. Just use dry shampoo for a quick and easy boost. The natural oils in your hair can weigh your hair down and decrease the volume that it already has. To create volume, apply dry shampoo to your roots and throughout your hair. I find Batiste Dry Shampoo to work very well, plus it's inexpensive and smells great.

9. Sleep in a bun
Sleeping in a bun is a super easy way to achieve both volume and pretty waves. After showering at night and while your hair is still damp, pull your hair up high in a loose bun and secure it with soft elastic. Your hair will be lifted off the scalp while drying, so when your let it down, you'll have instant volume and soft waves.

10. Use a volumizing shampoo
Volumizing shampoos have gently cleanse without stripping the hair or leaving unwanted build-up.These are made to work without weighing down your hair, so you'll get a fuller look. Look for any shampoo that mentions volume, and try it out for awhile to see if it gives you the results you want.

11. Deep condition
If you have thin hair, breakage and split ends are the worst. As your hair breaks, the mid-lengths and ends become thinner, so it's important to use a deep conditioner or hair mask to help prevent this from happening.

12. Invest in hair extensions
Extensions aren't just good for adding length—they can give the appearance of fullness and volume. You can purchase clip-ons or have them put in semi-permanently with a hairstylist, and no on will tell the difference!

Leave a reply.
Your email address will not be published.