Instant Pot Beef and Broccoli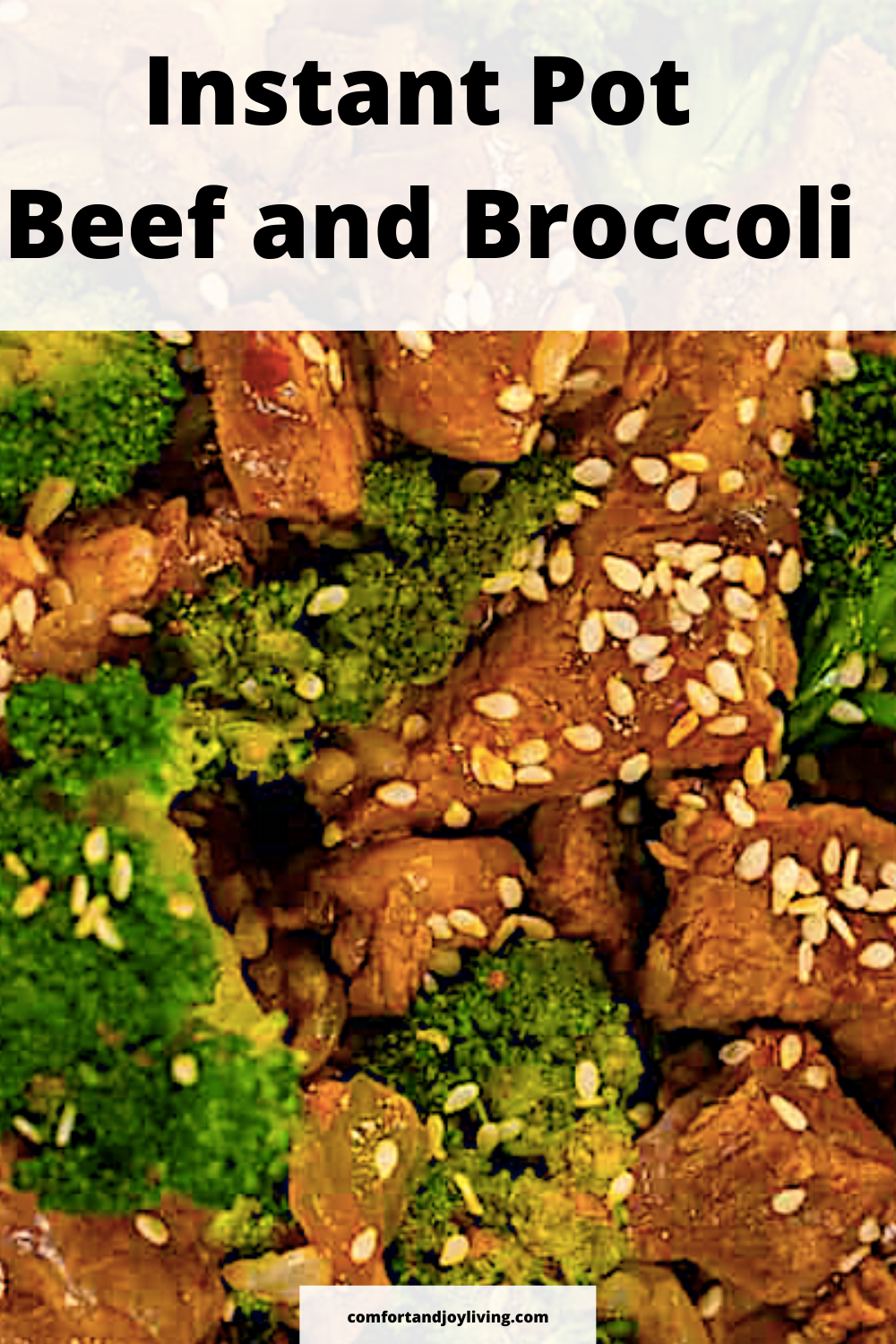 Instant Pot Beef and Broccoli
Prep Time: 15 mins
Cook Time: 20 mins
Total Time: 35 mins
Servings 6

Ingredients
1 tablespoon vegetable oil
1 tablespoon garlic, minced
1 tablespoon fresh ginger, minced
2 lbs flank steak, sliced into strips
¼ cup water to deglaze the pot after browning the beef
1 cup low sodium beef broth 
1/2 cup low sodium soy sauce 
1/3 cup brown sugar
2 tablespoons sesame oil
1 teaspoon red pepper flakes
2 tablespoons cornstarch + 1/3 cup water (for slurry)
12 oz frozen broccoli bag, steamed
1 teaspoon sesame seeds for garnish (optional)

Directions
   Set Instant Pot to SAUTE. Add the oil. Once hot, saute the garlic and ginger for a minute. Add the beef and cook, stirring occasionally, until meat is browned on all sides. Remove beef and set aside on a plate.   
   When the beef is browned, deglaze the pot with 1/4 of water to scrape off any bits stuck to the bottom of the pot with a wooden spoon (this will avoid a "burn" warning).
   Add the soy sauce, brown sugar, sesame oil and red pepper flakes. Turn off the SAUTE setting.

   Secure the lid and set the vent to SEALING. Select the PRESSURE COOK/MANUAL setting and set the cooking tie for 8 minutes at high pressure (it will take a few minutes for the pot to pressurize before it starts counting down). When the cook time has elapsed, quickly release the steam and carefully remove the lid.
   In a small bowl, whisk together the cornstarch and 1/3 cup of water. Press on the SAUTE setting and add the slurry to the pot and mix until incorporated. Cook for 2-3 minutes to thicken the sauce.
   Stir in the steamed broccoli until all of the ingredients are well combined. Turn off the Instant Pot. Serve over rice and top with sesame seeds, if desired.

How to store:
   Refrigerate: Allow remaining leftovers to cool to room temperature. Place in an air-tight container and refrigerator for 3-4 days.
   Freeze: Allow to cool. Place into a freezer-safe container. Make sure that the sauce covers the beef so it doesn't dry out. Freeze for up to 3-4 months.

Nutrition: Per serving
Calories: 414kcal | Carbohydrates: 22g | Protein: 36g | Fat: 19g | Saturated Fat: 8g | Cholesterol: 90mg | Sodium: 1338mg | Potassium: 791mg | Fiber: 1g | Sugar: 13g | Vitamin A: 495IU | Vitamin C: 51.4mg | Calcium: 81mg | Iron: 3.5mg
Leave a reply.
Your email address will not be published.