Tips and Tricks for a Backyard Party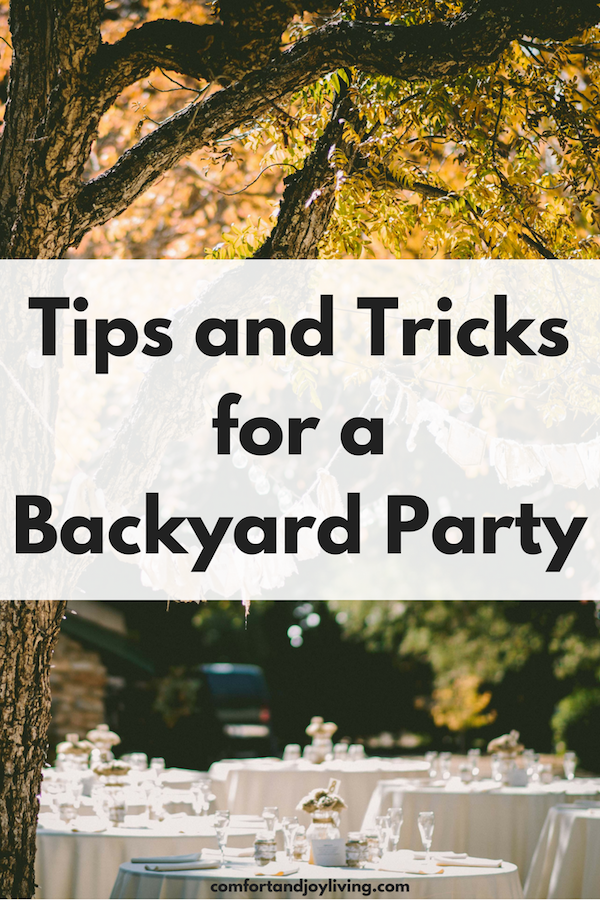 Backyard parties are casual, social and fun. There's nothing formal, stuffy, expensive or stressful about them—they're just easy, lazy awesome summer social events. And outdoor parties are so much easier than indoors! Instead of fitting people in a small living room or a hot kitchen, everyone can spread out in the yard.  Kids can run around and play and cleaning up is a breeze.

The great thing about backyard parties—besides the simplicity—is that you have several over the course of the summer. And they're not major events that require extensive planning. In fact, the more casual that you keep it, the more time you'll have to socialize and enjoy yourself, which we know is the best part of the party, right?

What's Holding You Back?
We often feel like we can't entertain in our backyards because everything isn't "perfect." Maybe our garden isn't growing—if there's even a garden to be had. Maybe you didn't have the time to plant any flowers this year or even mow your lawn.

Don't let that stop you! You don't need fancy surroundings or even lawn furniture to have an awesome backyard party. You deserve it!

So bring out a card table and make a few benches out of logs and planks, ask friends to bring their camping chairs, or place some blankets on the lawn for a picnic-style get-together. Do you have a small backyard? No problem! Move to your porch, grill out in the driveway, or hod a tailgate get-together with a bag-toss and a baseball game playing on the radio. No yard at all? Head to the park!

The main idea is to give yourself a chance to relax. Again, you deserve it! Allow yourself some time to chill out and adopt a summer mentality: easy, breezy, fun and enjoyable!

Here are 10 tips to host amazing backyard parties to have you and your friends enjoying yourselves all summer long.

1. Choose a Backyard Party Theme
While it may seem like more of a hassle than it's worth, trust me, choosing a theme for your backyard party will actually make party planning much easier. By establishing a party theme, you create a vision for the event, so you're sure to have a boost in creativity as you work out all the fun little details. And, choosing a theme will help you stay within your budget because you'll know exactly what you'll need to create the right atmosphere.

You can try a great summer theme like beach party, camping, tailgating, or New England crab boil. You can have a garden party for your book group or a baseball party for sports fanatics. The season and the outdoors lend themselves to so many ideas. The sky's the limit.

2. Decide on Your Attendees
Envision your backyard party. Who do you want to invite? Will there be kids? How old are they?

Once you've decided who you're inviting, it's always fun to make invitations (everyone loves getting mail). If you don't have the time, sending out email invitations or simply calling or texting is just fine. For more formal parties, you'll probably want to start planning a few weeks ahead, but impromptu gatherings of 8 - 10 friends can happen in just a few days.

3. Plan a Simple Menu
Summer backyard parties aren't heavy cooking events or formal dinner parties. People like to eat light in the summer, so don't feel the need to toil away in your kitchen and miss out on all the whole get-together. Make dishes that can be served cold or as part of a buffet—pasta salads, green salads, cheese and bread platters, pickles, chips fruit, and Mediterranean or Mexican dishes often work well.

If you have a spouse that loves to grill, then by all means, grill. But don't force someone to be the grill master—including yourself. It's perfectly acceptable to make a slow-cooker dish like pulled chicken or pork, taco filling, and simply use the grill to char up some veggies or corn on the cob. Kabobs can be prepared and created ahead of time, and if you want to cook hamburgers and hot dogs, let your guests keep an eye on their own burger. Provide a few vegetarian options if you have any non-meat-eaters.

Your guests can snack on raw crudités and hummus or salsa instead of heavy chips and creamy sauces that don't hold up in warm weather. Cherry tomatoes, sugar snap peas, pepper strips and blanched green beans are great items to serve with ease. Dessert can be simple ice cream with fresh berries or frozen fruit pops. Choose food that's kid-friendly and low-maintenance.

4. Create a Fun Beverage
If you're trying to host on a budget, it can be a challenge to offer a full bar with soda, beer and juice. As an alternative, offer up a "signature" beverage like lemonade that can be "spiked" or doctored as preferred and water. It's perfectly acceptable to ask your guests to BYOB if they prefer beer, wine, or a special beverage.

Put your drinks in fun pitchers, coolers or a pretty beverage dispenser. Add fresh herbs like mint or lemon balm or fresh fruit to make even ordinary water seem fun and festive. Use plastic drinkware outside. Who wants to spend a party fussing over broken glasses? Outdoors, accidents can happen!

5. Add Ambience with Music and Lighting
Nothing sets the mood like good music and colorful lights. Suspend pretty paper lanterns from trees or use strings of lights around your yard. Tiki torches can be a little dangerous with flames and kids running around, but you can find cute lanterns that use batteries or solar-operated lights instead.

When choosing music for your party, go with songs that have universal appeal—retro favorites, oldies, beach, and summer pop music. It can also be fun to try jazz or instrumental music that has a nice beat to it. Keep the music low enough to talk and hear conversation—and keep your neighbors happy—but remember, music can make the party!

6. Go for Eclectic Decor
When it comes to decor, it's easy and fun to decorate for outdoor parties because you can really go with Bohemian and funky. Don't worry about matching plates and table accessories—mix and match instead. You don't have to go with traditional serving ware.  Food can be served on a wooden cutting board or other flat surface. Use jars to make cute vases and cups.

7. Play Outdoor Games
Backyard parties are a great tie to play games. Spray paint Twister dots or a giant tic-tac-toe on the lawn. Play Jenga with blocks or play yard games like croquet, bocce ball or a bag toss. There are so many options when it comes to kid's outdoor games—tag, hide and seek, scavenger hunts and more. It's also a good idea to have a football or playground ball on hand in case your guests want to toss it around—especially if you have a large yard.

You can also try hosting a fun theme, such as swimming or water fights, or tacking up a sheet, renting a projector and having an outdoor movie party. Even if you aren't actually camping, you can still have a bonfire, roast marshmallows and tell ghost stories.

8. Keep Pests Away
The least-fun part of summer is dealing with bugs. Mosquitoes, wasps and ticks can chase guests away and make them quite uncomfortable. A few days before your party, check your yard and look for anything that needs to be attended to. Remove anything with standing water—a  breeding ground for mosquitoes—such as birdbaths or toys in the yard.

A few hours before your guests arrive, burn citronella candles, and offer bug spray to your guests. Similarly, also have sunscreen on hand to keep your friends from getting burned. For kids' parties, make sure to keep some icepacks stashed in the freezer, and band-Aids on hand.

9. Let Your Guests Know What to Expect
We've all gone to a party wearing heels and ended up aerating the lawn—or forgotten a jacket on a chilly summer night. Give your guests a heads up so that they can plan accordingly. Remind guests that it's going to be an outdoor party and suggest they bring along bathing suits if you have a pool or hot tub; or to be prepared for a bonfire.

These heads-ups beforehand can ensure that your guests arrive prepared and excited about the activities that you plan to have. You may also want to be prepared with a few extra towels, flip-flops and a sweater in case guests forget some essentials for the party.

10. Offer Amenities
Most people don't come to a party expecting a swag bag, of course, but it can be really nice and fun to send your guests home with a little something to remember the day with. It doesn't have to be expensive or extravagant—something simple like a drink cozy or a little potted herb or succulent can make a great gift. For kids, an inflatable each ball or some sunglasses and a thank you note can be great.

Have a few takeout containers or boxes on hand, especially if you think you'd like to send home leftovers with your guests. If you're hosting a potluck event, having smaller containers to pack up food can make a huge difference for guests who are hauling their casserole dish and crockpot back and forth.

Summer parties are the best. They're a great time to entertain friends and spend quality time making memories with the ones you love. Plan a few great get-togethers this summer and have fun seeing what works best for you. You may find that you love grilling with friends or maybe you prefer to forgo a bonfire and enjoy ice cream under the stars instead of s'mores.

Summer's all about possibilities and having great new experiences with friends and family. Get some friends together and host an easy backyard party today! What are you waiting for?!

LEAVE A REPLY
Your email address will not be published.