20 Ways to Save at Target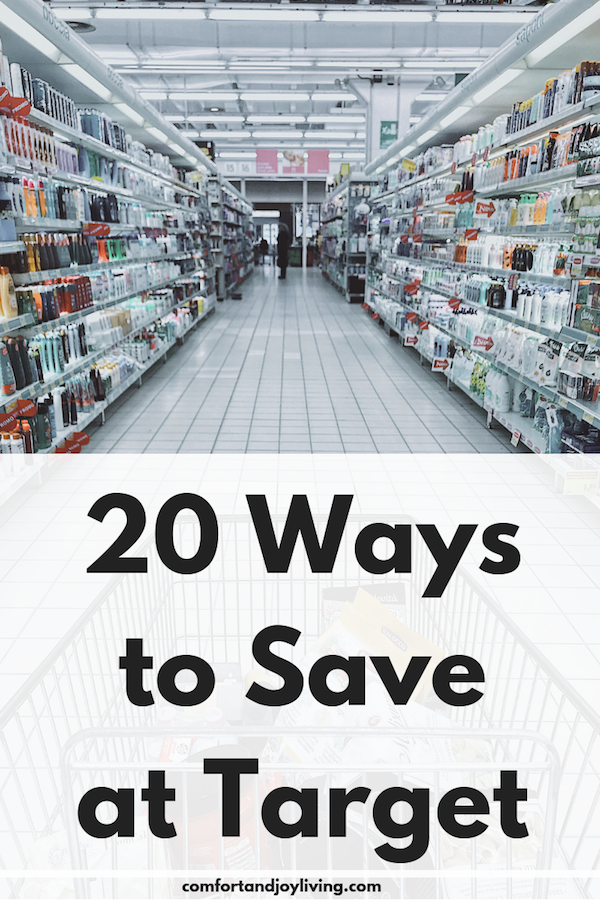 Shopping at Target can be fun, but it can also be frugal. Even if you only wish to use a few of these tips, they will help you save a good amount of money over time. Here are 20 ways to save when shopping at Target.

1. Use Target Cartwheel
Cartwheel is Target's social coupon program. Just log in, choose the coupons that you want; then have the cashier scan your personal barcode at the register to deduct your savings. Get the app to store your Cartwheel barcode on your phone  or print out a paper copy and take it with you to the store.

2. Check for Price Adjustments
It can be quite frustrating to buy something and see it on sale the following week. Well, Target will refund you the difference between what you paid and the sale price. So, if an item you bought goes on sale within 14 days of purchase, just bring in your receipt and Target will adjust the price for you.

3. Bonus Gift Card Offers
Target regularly offers gift card with purchase deals hat come in the form of "Buy X, Get a $ Gift Card". Sometimes it's one item for the gift card and other times, multiple items are required. All you need to do is meet the purchase requirements to et the gift card automatically at the register or online checkout.

4. Price Matching
Target price matches actual hard copy ads and online prices. Take the ad or your smartphone with you and be ready to prove the price match. Not only can you price match in the store the day you're buying, but if you can find a lower price within 7 days of your purchase, you can go in and get a refund of the difference.

5. Combine Manufacturer Coupons with Store Coupons.
Target allows you to use a manufacturer coupon as well as a Target coupon on every item, so you can sometimes even get things for free or at very low cost.

6. Target RedCard
Target RedCard is the easiest way to save at Target. You get an extra 5% off all your purchases, FREE shipping on your Target.com purchases, an additional 30-day period for returns and there's no annual fee. If you're not a fan of credit cards, you can get the Target RedCard Debit Card, which offers the same benefits as the credit card.

7. Bring Your Own Bags and Save
Target has a recycled bags program where you will save $.05 for every reusable bag that you use at checkout. It can be any reusable bag that you bring from home, not only reusable Target bags.

8. Use Target's Wedding and Baby Registries
Do you know someone who is getting married or having a baby? If you use Target's wedding or baby registry, you can get the remaining items on your registry after the date of your event for 15% off.

 9. Buy Discounted Target Gift Cards
Check out sites like Raise.com to purchase Target gift cards at a discounted price to save even more.

10. Buy Target's Brand Items
You may buy your favorite name brand items out of habit, but did you know that Target carries ten of their own brands such as Up & Up, Market Pantry and Archer Farms that deliver the same quality at lower prices?

11. Shop the Endcaps of the Aisles
Endcaps are those shelves located at the end of the aisles. They're easy to browse and often display items on sale or clearance.

12. Shop Early in the Week
Target releases insert ads for specials in the Sunday newspapers. Shop early in the week for popular items to increase your chances of grabbing them on sale.

13. Sign up for Target Subscription
Everyday items like toilet aper and cereal can run out fast, especially if you have kids at home. You can use Target's subscription service to stay fully stocked with daily essentials by scheduling regular deliveries. Just shop online, pick the items that you wand delivered regularly, and set a delivery schedule based on your needs. You get 5% off, plus free shipping on every order, even on returns.

14. Shop at Target Through a Cash-Back Site
To save even more money, use cash-back sites like Ebates or Ibotta. These online programs and smartphone apps give you money back for selected items that you purchase at Target and other participating stores.

15. Know the Weekly Markdown Schedule.
Different departments have discounts throughout the week, so if you shop for what you need according to the day, you'll get some great deals.

Monday: Electronics, accessories, kids' clothing, baby, books and stationery
Tuesday: Domestics, women's clothing, market (food items) and pet.
Wednesday: Men's clothing, health and beauty, lawn and garden
Thursday: Housewares, lingerie, shoes, toys, decor, sporting goods and luggage
Friday: Auto, hardware, cosmetics and jewelry

16. Check Out the Weekly Ads
If you're saving money by not getting the paper, you can check out the ad online at Target.com. Just look for the "Weekly Ad" tab on the site. It'll have pages of deals of up to 25% off or more.

17. Take Advantage of Seasonal Clearance
You know that holiday items are always discounted after the holiday is gone. While markdown schedules may vary store-to-store, here is a general guide:

The day after the holiday, items are 50% off
Three days after the holiday, items are 75% off
A week after the holiday, items are 90% off

18. Check Your Coupons at Checkout
Many high-value coupons will print after your receipt, so before you rush out of the store, check out the receipt that you receive at checkout.

19. Shop Online & Pick Up In-Store
Target allows you to purchase items online and pick them up in the store at customer service at your convenience. This helps you avoid impulse buys and ensure you get exactly what you're looking for. it also lets you take advantage of online only specials.

20. Follow Target on Social Media
Follow Target on Facebook and Twitter to ensure that you see all the latest deals and coupon offers.

LEAVE A REPLY
Your email address will not be published.