20 Must-Know Cruise Tips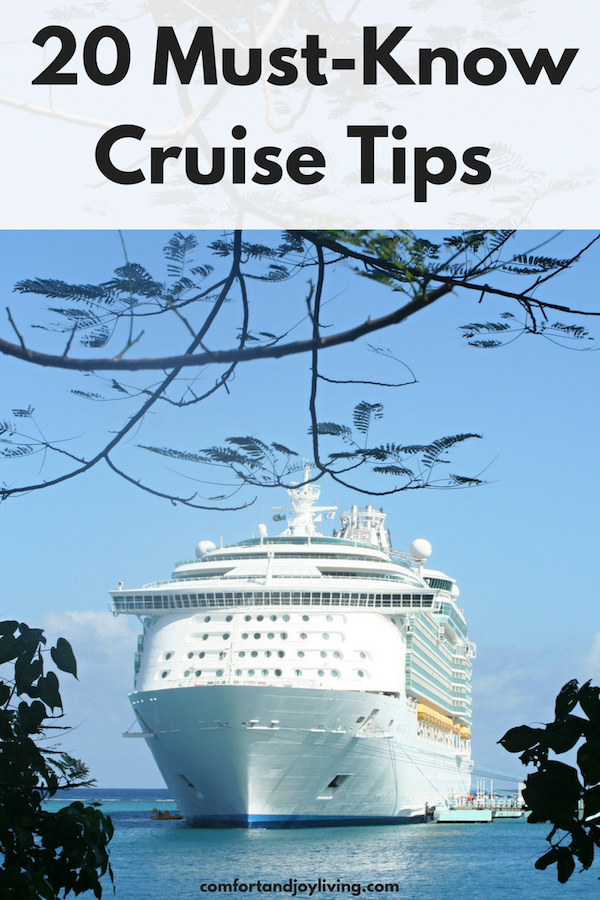 Cruises are a great way to vacation. Board the ship, unpack and sail off to different destinations without the hassle of changing hotels. Whether you're a first-time cruiser or have never sailed before, there re little known cruise line secrets that will help you make the most out of your next cruise.

1. Choose the Right Ship for You
Choosing the right ship is the most important step in determining how successful your cruise vacation will be, and trust me, not all ships are created equal. Take the time to research the amenities of the exact ship you will be cruising on, not just the cruise line.

To avoid the cost of airfare, look for ports within driving distance, whether it be Florida, New York, California, Seattle or New Orleans. Check out Cruise Critic which has an extensive searchable database of cruises where you can sort by destination, ports, special interests, and more during specific travel dates. Or, if you're looking for a top-rated cruise line, Conde Nast Traveler has an annual Gold List with the best cruise ships based on their readers' choice ratings.

2. Choose Your Cabin
Once you decide which ship is right for you, look into room options that best accommodate you and your travel companions. Then plan what to bring with you carefully and make yourself at home once you're there.

3. Book at the Last Minute 
If you're able to be flexible with your travel plans, you can get some amazing deals on last minute cruises. One of the best ways to book a last minute cruise is to first find out how close to the departure date a traveler can cancel their reservation without a penalty. This time is generally 2-3 months prior to departure, and is the exact time you will want to call and check back for better deals. Cruise lines often try to sell any available space at this time by reducing fares, If your cruise is already booked, this is also a good time to call to check for cabin upgrades.

4. Ask for Special Discounts
Just like hotels, cruise lines have incentives for different travelers… seniors, military, teachers, FL residents, etc. Cruise lines are able to accommodate all types of passengers and love to incentivize you to cruise with them over competitors.

5. Check for Special Interests
Whether you're interested in a romantic trip for two or a trip your whole family will love, look into cruises that fulfill your and your companions' special interests. Many cruise lines offer themed cruises or special events for singles, families, music lovers, etc.

6. Compare Prices
When you're shopping for a cruise, there are plenty of sites, such as Priceline that you can use to search for the best rates. When you do find a great deal, you can call the cruise line to get an even better deal! Cruise lines will compete to get your business and can often discount the price that you see online or offer other perks such as on-board credit, free wine at dinner or priority boarding. And even after you book, remember to keep checking back for additional deals or upgrades.

7. Check in After 2 p.m.
Usually, cruisers are quite eager to get on the ship as early as possible, which means that the cruise terminal can be very busy and stressful during the first few hours of boarding (generally from 11am - 2pm). And even though you may be able to get on the ship that early, chances are you won't be able to get into your cabin until later in the afternoon, which means you'll have to haul your luggage around for your first few hours on board. Not exactly the most relaxing way to start a vacation. Instead, avoid the rush and the crowds by waiting to check in until after 2pm (assuming you ship sets sail at 4pm or later!) You'll be able to walk right on without waiting and then go straight to your cabin.

8. Pick the Right Time to Go
When are the best times to get a great deal on a cruise? Book your cruise for just after Labor Day when kids are back in school—the second week in September offers some of the very best deals of the year. Coming in at a close second are the weeks between Thanksgiving and Christmas, a time when most people are too busy to travel.

9. Don't Bring Too Much Stuff
Make a list of clothing you'll need for the trip. Then cut that in half! While ship cabins do make the most of a small space, they are still small, especially when you're traveling as a family. No one cares if you wear the same clothes over again, and all ships offer laundry service if necessary. Find out ahead of time how many "formal" nights the cruise has, if any, and also how strict the dress code is. If you don't feel like dressing up, you can always choose room service or Lido dining those evenings to avoid having to pack a tux or formal gown.

10. Don't be Afraid to Order What You Want
Many first-time cruisers don't realize that even in the main dining room, you can order as many entrees, appetizers, or desserts as you want. And if you have special dietary needs, there are always healthier options that you can add in with the meal of your choice. You can even ask for a special diet menu that ay include lower sodium or lower fat options.

11. Plan Meals Ahead of Time
Ask to see the main dining room menu for the week so you can plan your meals accordingly. Then you can book specialty restaurants for the nights that the dinner at the main dining room doesn't interest you.

12. Don't Miss the Specialty Restaurants
Most cruise lines offer specialty fare at a slight up charge—between $5 and $25 per person—depending on the restaurant. While your first inclination might be to skip the specialty dining in favor of all the free options, it is worth setting aside a little extra in your budget for at least one night of special dining. Of course, not all specialty dining has an added cost and even some of the premium restaurants are free at lunchtime—just check your ship to see what's offered.

13. Take Advantage of Free Room Service
Mot cruise lines offer free room service, which makes for a relaxing evening in. Don't feel obligated to go to the dining room—this is your vacation. Room service breakfast is also a very nice way to start the day.

14. Drink Smart
While cruising is mostly all-inclusive, drinks are generally not included. Therefore, it's smart to get creative on how you partake. Here's a tip for wine drinkers. Bring your own wine. You might be charged a cork fee, but it will be significantly cheaper than buying a full bottle on the ship. For non-alcoholic drinks, you can usually buy a drink card that will give you access to unlimited soda.

15. Excursions and Entertainment
Depending on the ship that you choose. chance are you will wake up in a new place each day with the option to go onshore and explore or stay on the ship. By knowing what activities are available on and offshore, you'll be sure to be entertained in a way that's best for you!

16. Explore the Ship
There are so many amenities that you can take advantage of when you're out at sea or want to stay on board versus going o an excursion. During the first couple of days, walk around and familiarize yourself with the ship and its offerings. Also, ask others what they're looking forward to on the ship or have enjoyed thus far.

17. Choose Excursions In Advance
Cruise lines offer shore excursions at every port—from bus tours to activities like snorkeling and zip lining. You may also have the option to tour around yourself, just be mindful of time and language barriers. It is best if you review excursions in advance of the cruise and booking them online to avoid any confusion or overbooking the day of. This will also give you time to carefully read the fine print and excursion restrictions.

18. Research Ports Ahead of Time
Do a little research about the ports you will be visiting to find out what you might like to do or see while you're there. You may also find some highly rated excursions at a better price than you would find if you purchased it on the ship.

19. Don't Miss the Shows
While the shows vary from ship to ship, they're almost always really good and quite entertaining. You may even have the opportunity to see a big name performer for a concert or comedy show for almost nothing. And since you have the smaller size of a cruise venue vs. arena, these events are more intimate and enjoyable than typical concerts—here's literally not a bad seat in the house.

20. Take Advantage of the Kids Club
Ships usually have well-organized camps and activities for kids, organized by age, typically 3+. (For younger kids, they sometimes have classes or special babysitting times offered.) These interactive classes and activities keep the kids entertained while giving parents some free time. The best part is that aside from late night babysitting, it's completely free.

Whether you plan to cruise for three days or three weeks, knowing some of these ravel tips can help make your next cruise your best trip yet. Bon voyage!

Do you have any cruising tips to share? What is your favorite ship?

LEAVE A REPLY
Your email address will not be published.