10 Inexpensive Christmas Decorating Ideas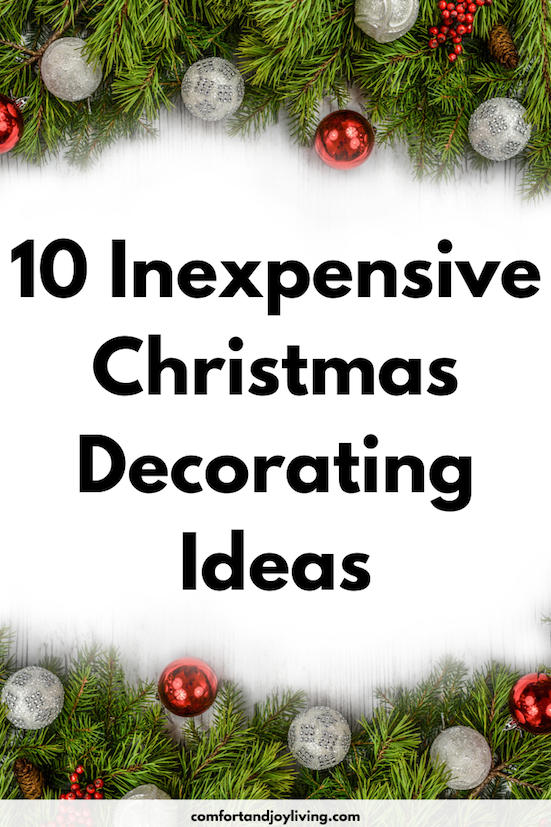 When you're on a tight budget, decorating your home for Christmas can be a challenge. But with a little creativity, you can find inexpensive ways to make your home festive and stretch your holiday dollars.

Here are some ideas to get your home ready for the holidays without spending a fortune.

1. Family Christmas Photo Display
Since Christmas is about sharing wonderful family memories, mat black and white copies of photos from past years on red and green patterned Christmas paper and place them in inexpensive silver frames to make a personalized display for your family room.

2. Fill Vases and Bowls with Ornaments
Use ornaments that you have on hand or buy a few boxes at your local dollar or thrift store.
Fill vases or bowls with Christmas balls or hang them from a chandelier for some holiday charm.
Hang ornaments from tinsel and wrap them around stair railings.

3. Holiday Card Decorations
Place holiday cards across a mantle or attach them red ribbon hung on a wall, door, or kitchen cabinets. You can also keep your favorite Christmas cards, cut the front images out, and place them together in an attractive frame to create a beautiful Christmas collage. Add small embellishments such as silk flowers, ribbon bows or buttons for a unique piece of holiday artwork.

4. Make Christmas Crafts with Kids
Children love Christmas, so helping to make decorations is guaranteed to be a fun activity for the whole family. Try some of these easy projects:

Print out free coloring pages, have your child color them and hang them up. You can find them by doing a quick search online for free printable coloring pages.
Make clothespin angels to hang on the tree. Have your child trace angel cookie cutters using scrapbook paper—or white construction paper that your child can color. Add embellishments, like hearts or stars. Glue them to clothespins and clip to ribbon.
Make paper snowflakes or beaded snowflakes to put in windows.

5. Gift Wrap Decorating Idea
Gift wrapped doors—"Wrap" your doors and kitchen cabinets. Tape wrapping paper onto your doors and kitchen cabinets. Add ribbon and bow, and a "do not open until Christmas" tag to complete the look.

Christmas gift display—If you have any unused boxes lying around, use them for a holiday display. Wrap them with pretty Christmas wrapping paper, and stack them in a corner for a dose of holiday cheer.

6. Use Festive Bows and Ribbon
Look for sales at your local craft stores and purchase several spools of pretty velvet ribbon. Tie large bows around your banisters for simple holiday decor. Inexpensive, ready-made present bows look pretty stacked in a glass bowl or jar. You can check out your local dollar store for these.

7. Candlelight Decorations
Candles can add a touch of elegance and sophistication to holiday decor. They're also inexpensive and available in several colors and sizes. Take a mason jar or fishbowl and add fresh greenery and cranberries. Cover with water and float a tea light candle on top.

8. Decorate with Food
String garland made of popcorn or cranberries, stick candy canes on your tree, and make a centerpiece from pinecones and apples. Making edible gingerbread cookie ornaments is also a fun activity for the whole family. Additional ideas include:

Orange and Clove Centerpiece—Place cloves in oranges, making simple designs with them. Place them in a basket or on a serving tray to create a beautiful and deliciously scented centerpiece. Add other accents like fresh greenery, cranberries, acorns or cinnamon sticks.

Clove and orange centerpiece—Press cloves into oranges to make gorgeous studded decorations.

Peppermint Ornaments—Place red and green peppermints inside cookie cutters and bake them until they're melted. You'll have beautiful peppermint ornaments that you can hang on your tree and throughout your home.

Gumdrop Tree—Cover an inexpensive styrofoam or cardboard cone with gumdrops to make a festive tree.

9. Bring the Outdoors Indoors
Use nature to decorate for the holidays by using items from your yard.
Make wreaths and garlands with pine tree trimmings.
Fill a basket with pinecones and berries and tie ribbon around the base.
Fill a hurricane candle holder with small pinecones or acorns and add a dollar store flameless candle.

10. Use Holiday Bedsheets
Clearance red or holiday-themed bedsheets can be used as tablecloths and tree skirts. Take pillowcases and stuff them with newspaper and tie them at the top with ribbon. Place them in corners to look like Santa's sack of presents. 

Budget-Friendly Shopping
When looking for Christmas decorations, it pays to spend time bargain shopping. Try these budget-friendly ideas:

Thrift stores—It may take you awhile to sort through the merchandise, but thrift stores tend to have a nice selection of cheap Christmas decorations. Since holiday decorations are only used for a short time every year, most of them will be in fairly good condition.

Dollar stores—If you don't regularly shop at dollar stores, you may be surprised at the selection of holiday decorations that they carry. Stores such as Dollar tree and Dollar General are great places to find inexpensive gift wrap, ribbon, bows, Christmas ornaments, greenery and candles.

Online auctions—You can find great prices on Christmas decorations on sites like eBay. Just make sure to factor in the cost of shipping, and to buy from seller with an established track record.

Seasonal sales—Although it may not seem like much fun to buy Christmas decorations after the holidays are over, this is often when you can find the best bargains. Stores have to get rid of all their seasonal merchandise quickly, so you can find savings of 50-75% percent during after-Christmas sales. However, you should arrive early to beat the crowds to ensure that you have the best selection.

What tips do you have for decorating for the holidays on a budget?

Leave a comment. Your email address will not be published.