16 Things for Families to Do in
New York City at Christmas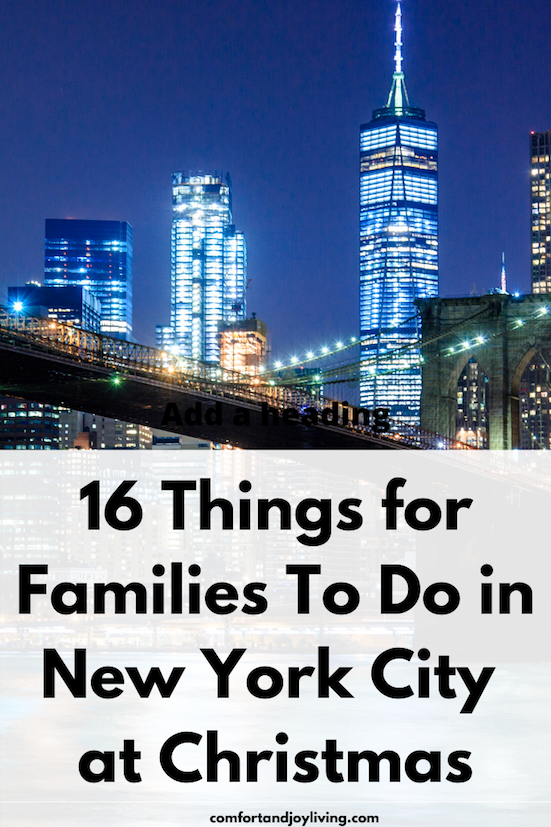 Planning a trip to New York City at Christmastime? Here's a list of 16 festive things you must see and so while you are there!

1. Visit the Tree at Rockefeller Center
This may quite possibly be the most famous Christmas Tree, you have to go see this beautiful tree at Rockefeller Center (between 48th Street and 51st Street at 6th Avenue). There is also an ice skating rink below and you can even have breakfast at Santa while you're there.

2. The Nutcracker
If you want to see an enchanting Christmas show in New York, the Nutcracker is performed by the New York City Ballet at the Lincoln Center (between West 62nd and 65th Streets and Columbus and Amsterdam Avenues). Besides the ballet, you'll find the opera House and Geffen Hall where the New York City Philharmonic plays.

3. See the Christmas Spectacular with the Rockettes
At the Christmas Spectacular with the Rockettes at Radio City Music Hall (1251 Sixth Avenue), the music and dancing is so entertaining and powerful. And not to spoil the show, but they have a live nativity at the end. If you're going to catch a show during the holidays in New York, this is the one to see.

4. Giant Christmas Ornaments
Right across From Radio City Music Hall at 1251 Sixth Avenue, you'll find Giant Christmas Ornaments also known as Gigantic Holiday Cheer. And right nearby at 1255 6th Ave, you'll see giant Christmas lights in brilliant colors.

5. Visit Macy's SantaLand
At Santaland at Macy's (151 West 34th Street), you'll walk through an all-out decorated Christmas land as you wait in line to see Santa. You must make reservations to go but it's free. You can also order professional photos of your child and Santa.

6. The Metropolitan Museum of Art
One of the things New York City is known for is it's museums, and if you plan on visiting one on your trip there this holiday season, I have to recommend The Metropolitan Museum of Art (1000 Fifth Avenue). During the Christmas season, you can take in the Met's magnificent 20-foot blue spruce. And displayed at its foot is a gorgeous 18th century nativity scene. You can catch a tree lighting, daily at 4:30 p.m., with encores at 5:30 p.m. and 6:30 p.m. on weekends.

7. Go Ice Skating at Bryant Park
There are a few different outdoor ice skating rinks in New York City, but I'm recommending Bryant Park (between 40th and 42nd Streets, 5th Avenue) because the atmosphere is so fun and festive. You'll skate to a variety of Christmas music and the large Christmas tree sets the scene for a memorable day. Skating at Bryant Park is free, you'll only need to pay for skate rental which is about $20. If you can bring your own skates, this will be a free activity.

8. Holiday Window Displays
Department store windows at iconic retailers get decked out for the holiday season. The displays are more about telling stories than selling merchandise, and can be quite colorful, with music, moving parts, and other special effects.

Best Window Displays

    Barneys (Madison Avenue between 60th and 61st streets)
    Bloomingdale's (Lexington Avenue between 59th and 60th streets)
    Lord & Taylor (Fifth Avenue between 38th and 39th streets)
    Macy's (Broadway between 34th and 35th streets)
    Tiffany & Co. and Bergdorf Goodman (Fifth Avenue between 57th and 58th streets)
    Saks Fifth Avenue (Fifth Avenue between 49th and 50th streets)

9. Christmas Markets
There are, of course, many shopping options in Nw York City. But during December, the holiday markets are a special treat. You can find unique gift items, including toys and other kid-friendly treats. The Holiday Shops at Bryant Park (between Fifth Avenue and Avenue of the Americas (Sixth Avenue) and between 40th and 42nd Streets) is the largest of the markets, with a European feel. Other markets are presented at Union Square (between 14th St. and 17th Street, Broadway) inside Grand Central Terminal (42nd St. and Park Ave.), and in Columbus Circle (Broadway and 59th Street).

10. Top of the Rock
You will have one of the most amazing views from the top of the Rock, the observatory at Rockefeller Center (between 48th Street and 51st Street at 6th Avenue). You'll be able to take in the many lights of the city from above, including a red and green Empire State Building.

11. The Empire State Building
The Empire State Building is open 365 days a year, including Christmas Day! Be prepared for very long lines though. As mentioned above, the Empire State Building lights up in a festive red and green glow, and it really showcases a beautiful view of the skyline from the Observation Deck.

12. New York Botanical Gardens Train Show
During the Christmas holiday season, the New York Botanical Garden (2900 Southern Boulevard, Bronx) lights up with its collection of enchanting model trains that chug along a nearly half-mile track with 150 miniature NYC landmarks like the Empire State building and Radio City Music Hall, all made of natural materials such as leaves, twigs, bark and berries.

13. Visit the New York Public Library Tree
You'll find a gorgeous Christmas tree right inside the lobby at the New York Public Library (42nd Street and 5th Avenue). The building itself is beautiful with marble floors and stately columns. You can also check out the famous reading room upstairs.

14. Eat Frozen Hot Chocolate at Serendipity 3
Serendipity 3 (225 East 60th Street) is a fun, eclectic restaurant that's famous for their desserts, especially the Frozen Hot Chocolate. All the desserts are huge and over the top. And they have festive garland around the entire restaurant which makes it feel extra fancy for Christmas. Because it can get pretty busy, I recommend making a reservation online or by phone.

15. Dyker Heights Christmas Lights
If you have the time, take a trip out to Brooklyn to see the famous Christmas lights of Dyker Lights. It's over the top with mind-blowing light displays, Christmas carls and inflatable Santas. There's a lot of ground to cover, as many houses in the area participate over multiple blocks and avenues. If you're traveling by subway, take the D train to 71st St., Brooklyn. You'll then have a 15 minute walk to the homes which are spread over multiple blocks.

16. New Year's Eve in Times Square
If you're staying through New Year's Eve, watching the ball drop in Times Square (Broadway, 7th Avenue, 42nd and 47th Streets) is the quintessential New York event. However, if you don't want to stand for hours in the crowded, cold streets, consider hotels or other venues in Times Square where you can watch fro the windows, such as the New York Marriott Marquis, the DoubleTree Guest Suites Times Square, or the Hyatt Times Square New York.
Have you been to New York City at Christmas. What were some of your favorite things?

Leave a comment. Your email address will not be published.