One Pan French Onion Chicken Skillet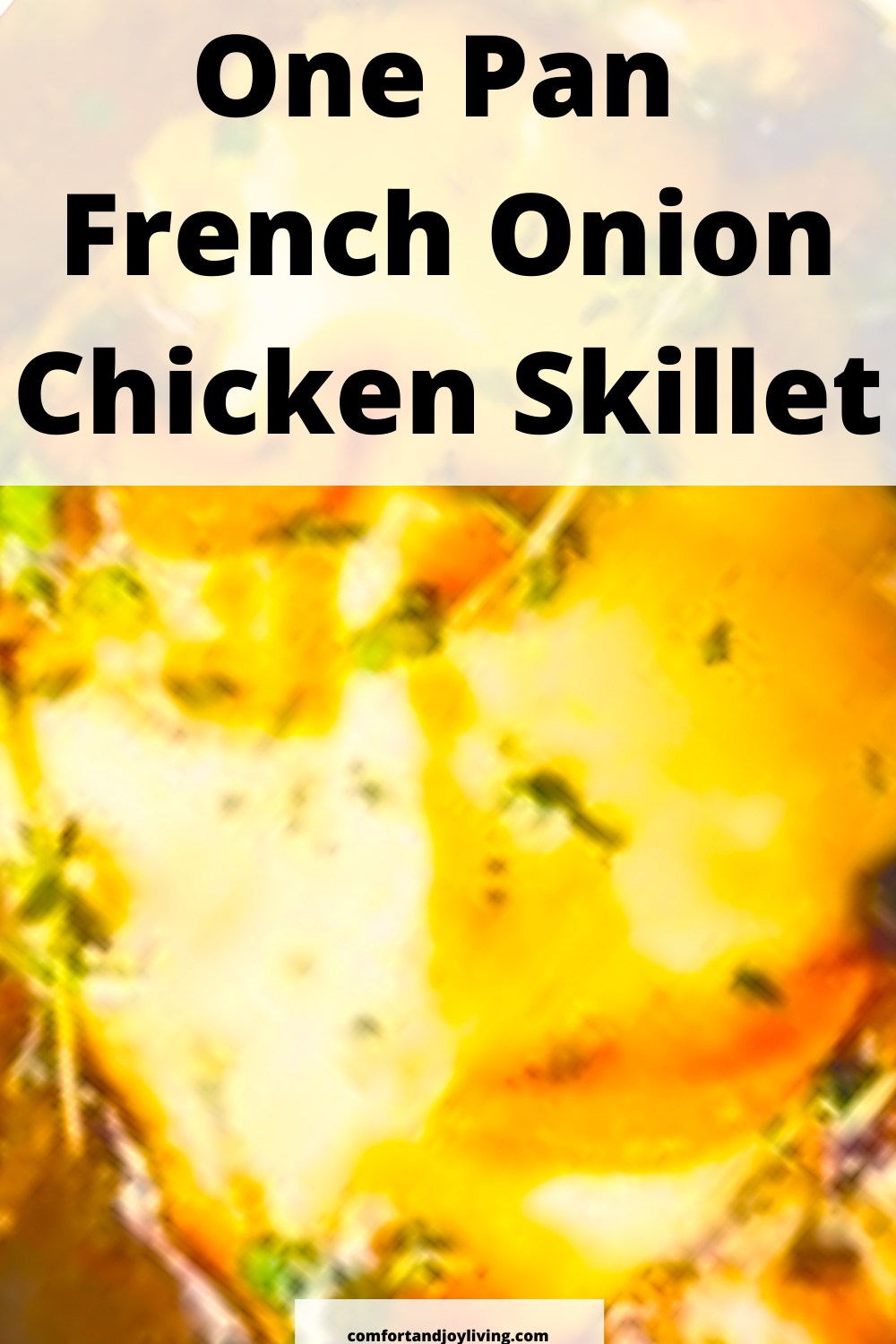 One Pan French Onion Chicken Skillet
Prep Time: 5 minutes
Cook Time: 25 minutes
Total Time: 30 minutes
Servings: 4 servings

Ingredients
2 large yellow onions (sliced)
4 tablespoons butter
4 boneless skinless chicken breasts
2 tablespoons olive oil
1 teaspoon Italian seasoning
salt and pepper, to taste
2 tablespoons flour
1 cup beef broth
4 slices Swiss cheese
4 Slices provolone cheese
fresh thyme or parsley, for garnish

Directions
   Preheat oven to 400 degrees.
   In an oven-safe skillet, over medium heat, add butter and let it melt. Add sliced onions, stir to coat with butter and cook, stirring occasionally, for about 15 minutes until onions are tender and translucent. Remove from skillet and set aside.
   Drizzle the chicken with olive oil and season it with Italian seasoning, salt and pepper. Raise the heat to medium-high. Place chicken breasts in skillet and cook on each side for about 5 minutes or until cooked throughout and no longer pink. Place on plate and tent with aluminum foil to keep warm.
   Return onions to skillet and sprinkle the flour over onions and stir. Cook for one minute and stir constantly so it doesn't burn. Slowly whisk in beef broth and bring mixture to a simmer. Simmer for 2-3 minutes or until the mixture thickens. 
   Add the chicken back to the skillet and top each chicken breast with a slice of Swiss chees and a slice of provolone cheese.
   Place the skillet in the preheated oven and cook for 8 to 10 minutes until chicken is cooked thoroughly. An instant-read thermometer inserted into the center of the chicken should read at least 165º degrees F. Spoon some of the onions and sauce over the chicken and garnish with thyme or parsley. 

Notes:
If you don't have an oven-safe skillet, you can transfer everything to a casserole dish to bake.

Nutrition
Calories: 411 kcal, Carbohydrates: 11 g, Protein: 42 g, Fat: 22 g, Saturated Fat: 11 g, Trans Fat: 1 g, Cholesterol: 115 mg, Sodium: 868 mg, Potassium: 607 mg, Fiber: 1 g, Sugar: 3 g, Vitamin A: 508 IU, Vitamin C: 5 mg, Calcium: 536 mg, Iron: 1 mg

Nutrition information provided is an estimate and will vary based on cooking methods and brands of ingredients used.

Leave a reply.
Your email address will not be published.