Chicken Scampi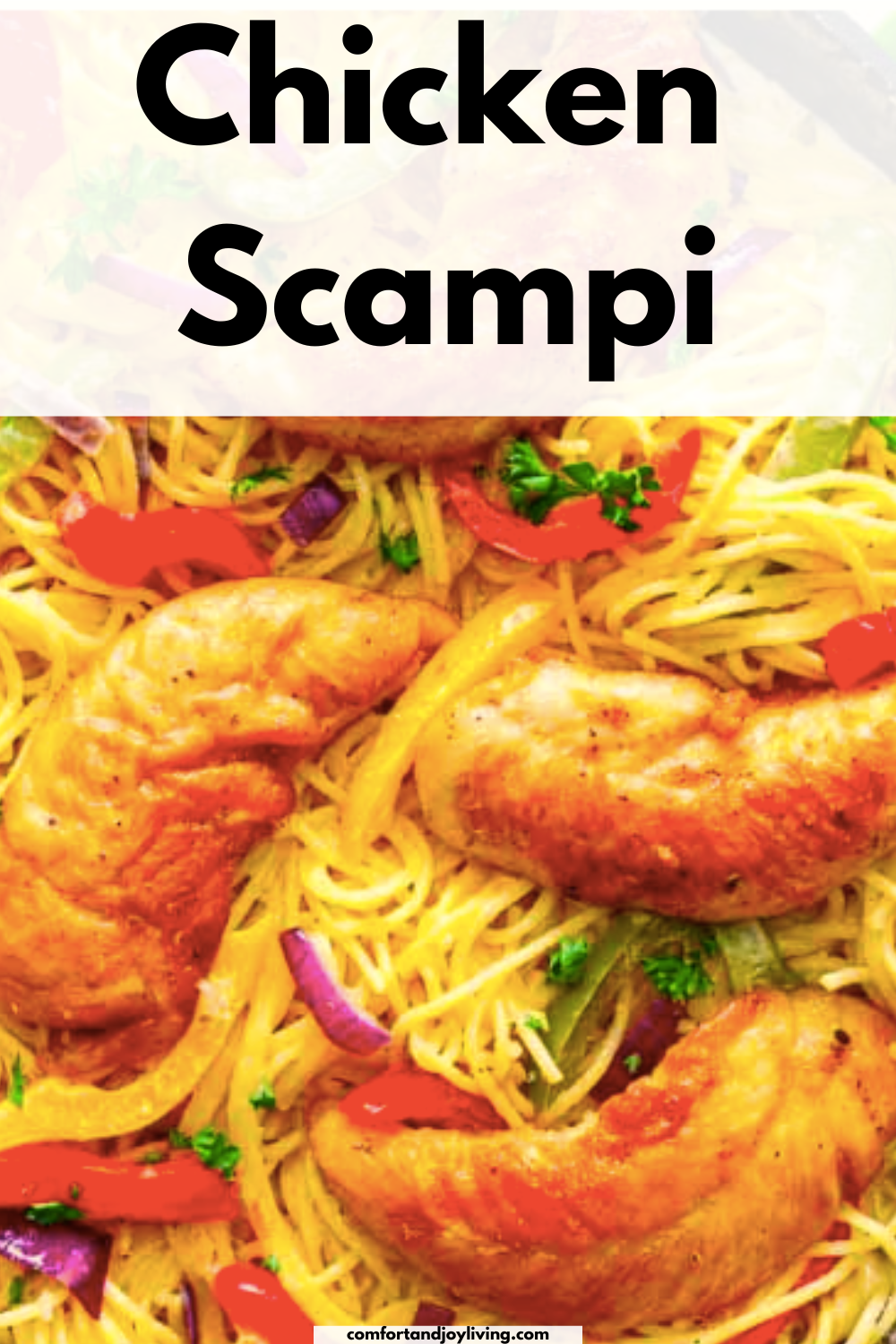 Chicken Scampi
Prep Time: 10 mins
Cook Time: 20 mins
Total Time: 30 mins
Ingredients
12 ounces angel hair pasta
1-1/2 pounds chicken tenderloins
1/2 cup all-purpose flour
1/4 teaspoon Italian seasoning
2 teaspoon salt, divided
1/4 teaspoon ground black pepper
2 tablespoons olive oil
2 tablespoons butter
1 red onion, sliced into half-moons
1 red bell pepper, sliced thinly
4 cloves garlic, crushed
1/2 cup dry white wine
1/2 cup whipping cream
1/2 cup parmesan cheese, grated
1/4 teaspoon red chili flakes, optional
1 teaspoon fresh parsley, chopped
Directions
   Bring a large pot of salted water to a boil. Add spaghetti and cook according to package directions until al dente. Drain and reserve 1 cup of the pasta water.
   While the pasta is cooking, in a shallow bowl, combine the Italian seasoning,1 teaspoon of salt, and pepper. Dredge the chicken tenders in the seasoning mixture.
   In a large skillet, heat oil over medium-high heat. Add chicken and cook both sides until browned and cooked through (about minutes on each side). Remove the chicken, place on a plate. tent with foil to keep warm.
   Melt butter in the skillet and add the onions and the bell peppers. Cook until the vegetables are slightly softened, then add the garlic and cook for 30 seconds, or until fragrant.
   Add the wine and deglaze the pan, scraping any brown bits from the bottom of the pan with a wooden spoon. Cook until reduced by half, about 5 minutes.
   Add reserved pasta water and whipping cream to the skillet. When the sauce starts simmering, add the parmesan cheese, remaining 1 teaspoon of salt, chili flakes if desired, and the pasta.
   Add the chicken tenders and toss everything to combine. Garnish with chopped parsley and serve.
Leave a reply.
Your email address will not be published.