How to Throw a Birthday Party on a Budget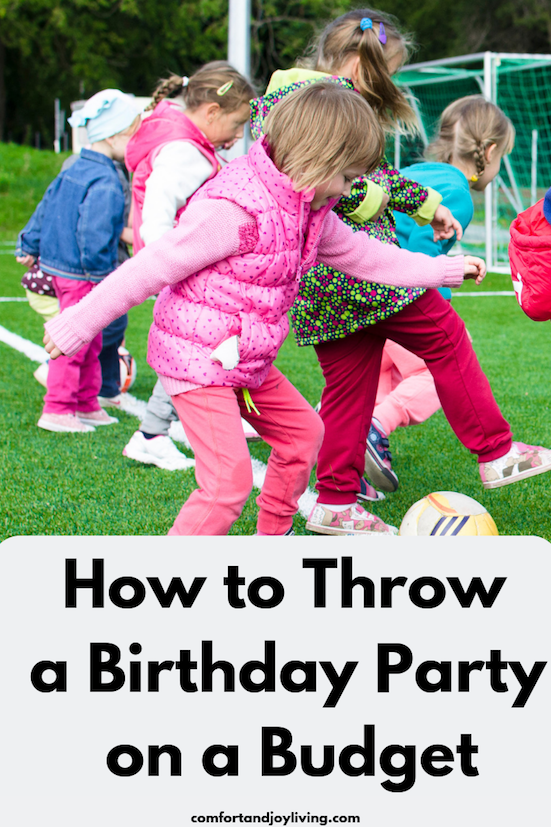 Are you preparing to celebrate your child's next birthday? Are you concerned that it's going to cost too much? Creating a memorable day doesn't mean spending a great deal of money. Here are ways to save on your child's birthday party.

• Location. We typically keep our parties on the smaller side by inviting some family and the birthday child's friends, so we can have the party at home. But, if you don't have the space, you can still avoid expensive venues. If the weather permits it, you can have it at a local park where you may have access to a grill and picnic tables. If the weather isn't favorable, try a local gym or recreation center.

• Entertainment. Make your own fun. There are so many activities that don't cost much or anything at all. Scavenger hunts are always popular with kids of all ages and you can have them indoors or outdoors. Obstacle courses are always a lot of fun and can easily be set up using what you already have like boxes or small pieces of furniture. Making crafts is another popular activity and most of them can be made from what you can find at the dollar store.

• Food. Have the party mid-afternoon. If you have the party after lunchtime, you won't have to serve a meal. Having a birthday cake and maybe some ice cream will do. If you want to serve a meal, pizza is usually the cheapest option and will eliminate a lot of extra work and stress for you.

• Decorations. Don't use themed decorations. Most themed decorations are quite pricey. Solid color tablecloths work fine. You can dress up the table by placing bowls of snacks on the table and tying balloons to them for the centerpieces. I usually buy crepe paper and balloons from the dollar store and place themed stickers on both paper and balloons.

• Invitations. Send inexpensive or no-cost invitations. Save money by having your kids create their own or help you create them.  We had a Disney princess party for my daughter once, so I downloaded princess images and placed them on pretty paper and typed in the details.

• Favors. You don't have to spend a lot on favors. You can have the kids make a craft that can serve as a favor, such a pipe cleaner flowers or cookies that they decorated. I had a birthday party for my daughter with an art theme, and I had the kids decorate foam picture frames and they were very happy to take them home as favors.

Hello, I'm Kelly, a regular contributor on this blog. I live in Pennsylvania with my loving husband and our five beautiful children. I have a background in early childhood education, but I am currently homeschooling my kids. From pregnancy to postpartum to toddler life, I love sharing advice with other moms who are having a challenging time with this crazy but wonderful role of motherhood.

LEAVE A REPLY
Your email address will not be published.