How to Get Free Coupons in the Mail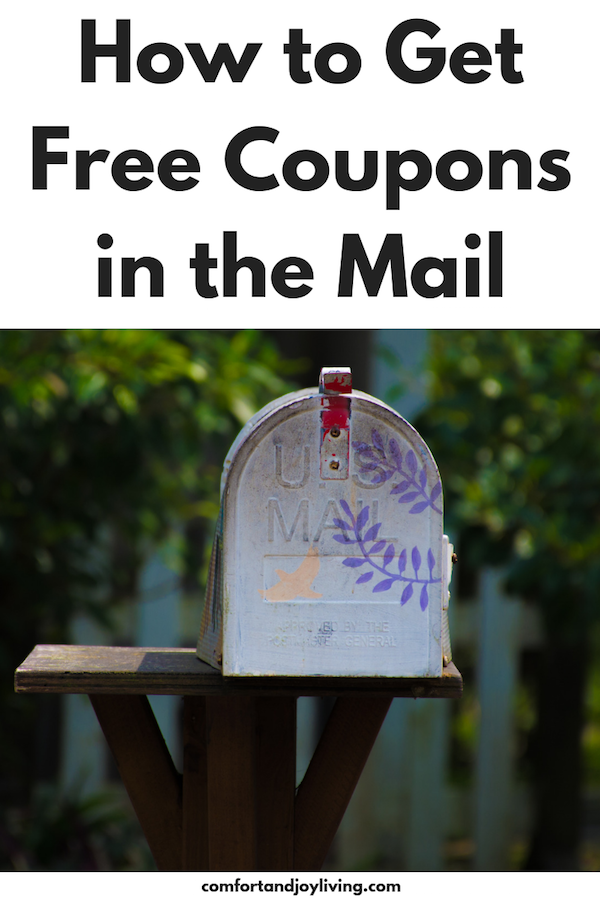 Coupons. I love saving money with them and there are a few ways to get them. The easiest way to get them is in the Sunday paper. It shows up on your doorstep with inserts inside, waiting to be clipped.

Another option is using online sites to print them as well. You can find them on coupon sites like Coupons.com, SmartSource, and RedPlum.

However, what if you could just open your mailbox and have coupons waiting for you? Would you say SIGN ME UP?

Below are some of my favorite tips for getting coupons mailed directly to you. Sometimes, these are even better than the ones you can receive online or in the newspaper.

Here are some ways to get coupons mailed to you:

Sign up for company newsletters.
Take the time to sign up for lots of newsletters. Companies and retailers frequently email coupons as part of their weekly or monthly email.

Here's a tip. Go through your home and make a list of all the products that you use. Then go to each of those websites and sign up for their newsletter.

• Follow companies on social media
Many companies use social media to share their coupons, promotions, and samples with consumers. Start following your favorite brands on Facebook, Twitter and Instagram.
• Get on birthday lists
When you get on birthday lists, your mailbox will fill up with coupons in the month leading up to your birthday.

•Request free samples
When companies come out with new products, they'll often send out free samples for you to try. These sample boxes often include a high-value coupon inside as well.

• Email companies with a complement or a complaint.
Emailing companies is the easiest way to get coupons in the mail. Take the time to email a company or manufacturer and let the know what you love about their product. They will often thank you for your comments by sending you a coupon.

You can also receive them if you email them with an issue or concern. Perhaps your product wasn't fresh or it didn't taste as good as you thought it would. Email the company to let them know. They want to make it right and the easiest way for them to do that is by sending you a coupon for a free item.

So there you have it. A few simple things that you can do so coupons start showing up in your mailbox.

Do you have any tips on getting coupons in the mail?

LEAVE A REPLY
Your email address will not be published.