How to Declutter and Organize
Your Bedroom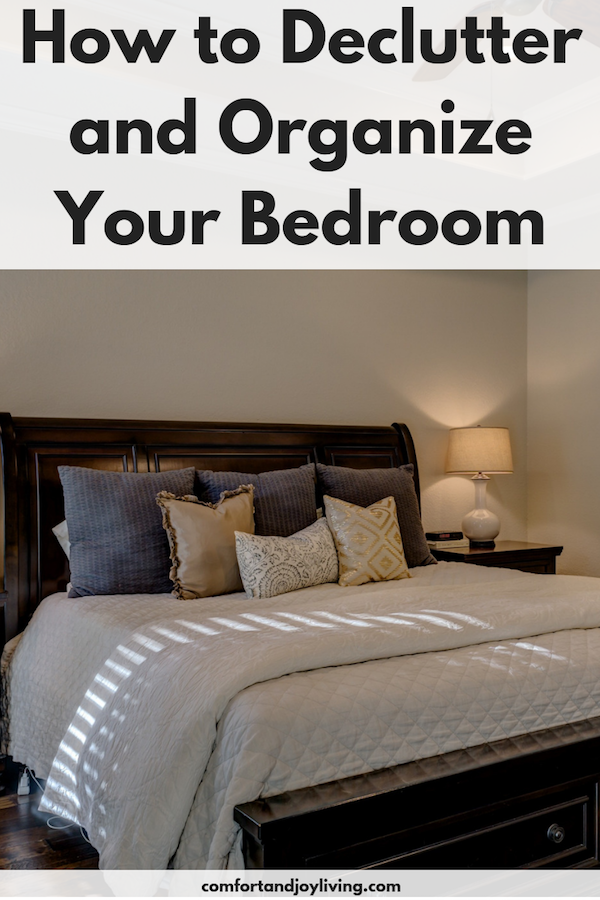 Your bedroom is one of the places in your home that you should feel relaxed, right? I don't now about you, but when I go into my bedroom and see tons of clutter everywhere, I can't relax. I feel stressed and confined. I start feeling the need to clean out all the clutter and organize. I want my master bedroom to be a place where I can rest and relax. So let's get started decluttering and organizing the master bedroom.

Decide On What You Do Not Need
Take a look around your master bedroom. Do you see things that are out of place or that you don't use and could be moved to a better place, thrown out or donated? Here are some things to consider:

Are your tables, nightstands, dressers and bookshelves have out of place stuff piled on them?
Do you have a pile of books on your nightstand that you intend to read, but never have the time?
Do you have too many framed pictures everywhere?
Is your jewelry disorganized? Do you have any older pieces that need to be thrown out or donated?

Once you start looking around, you'll probably notice a lot of things that you can start getting rid of or moving to the right place.

After you've cleared all the table tops (top of the nightstand, top of the dresser, etc.) you should start going through the drawers, shelves and storage areas. Remember, if you don't use it, it's probably time to get rid of it.

If you find clothing you don't wear, donate them. If you have older bed sheets you don't use, throw them away. You are looking to minimize as much as possible. If you don't need it, don't keep it.

Remove Dust from Furniture
Now it's time to do some cleaning. After you've moved and organized many items in your room, you've probably noticed some areas that are dusty and dirty (yes, I dust every week myself, but there are always some corners and places that I miss).

Clean and polish all your furniture. Part of decluttering is cleaning and getting rid of dust and dirt.

Organize What You Are Keeping
Now, let's look at what you're keeping and start organizing. Maybe you can group items in your armoire better to keep them more organized and easier to find when you want to wear them. By having fewer items—only the items you use—it will make it easier to find many things.

Remember to use storage and baskets you already have as you organize. You don't have to purchase new items unless it's absolutely necessary or you'll start redecorating too.

For things that you use every day—or nearly every day, keep them in a place that's convenient and easy to reach. You don't want to waste time looking for your cell phone or your watch in the morning.

Look around and see if you need to move anything else or make any other changes to make your bedroom perfect.

It's time to congratulate yourself on your hard work. You decluttered and organized your master bedroom, you removed things that you do not need use or need, and you put things away that were out of place.

Now sit back and relax in your organized room.

What did you find when you started decluttering your bedroom (maybe something you thought was lost)? How did you feel once you completed the process and your bedroom was decluttered and organized?

LEAVE A REPLY
Your email address will not be published.