10 Ways to Save on Home Insurance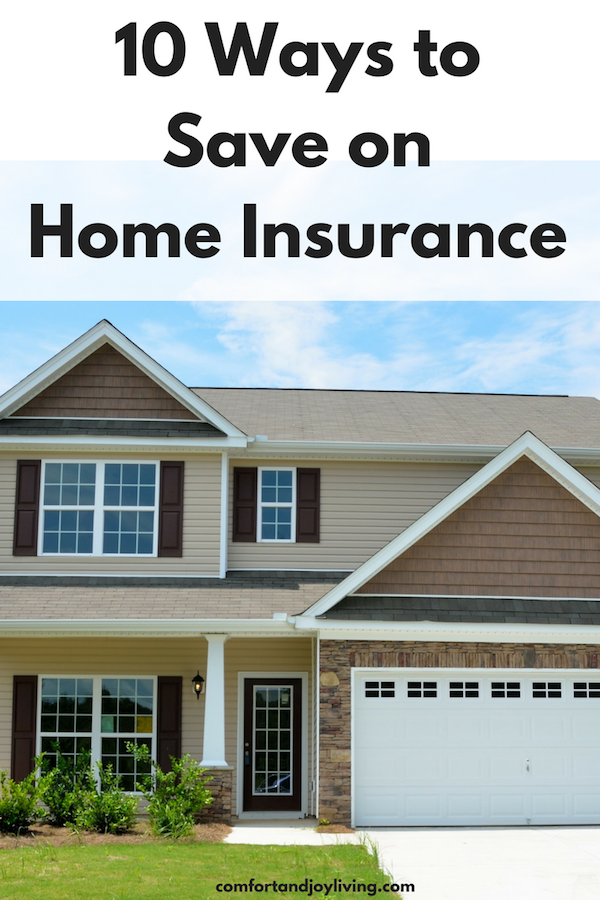 Like paying for utilities or health insurance, home insurance is one of those annoying, but necessary expenses we have to pay for, whether we want to or not, or whether we ever actually use it or not.

But have you ever stopped to consider whether or not you may be paying too much to insure your home?

The problem with expenses like insurance is that because we accept them as a fact of life, we don't always make sure we're getting the best rate. The truth is that homeowner insurance policies can vary a lot, and even if you shopped around when you first bought your policy, new options or reductions may have become available in the meantime. The most important thing to remember is that it's not your insurance provider's job to make sure you're getting the best rate. You must be your own advocate when it comes to paying less for insurance. It's best to also be vigilant about rechecking your policy annually to make sure you're always paying as little as possible.

Still not sure where to start? Here are 10 ways to save on homeowner's insurance that you may not have considered.

1. Shop Around
While it's easy to get attached to a particular agent or agency, particularly one you've been with for years, it always pays to shop around. Even if you decide to stay with your current provider, comparing prices and getting multiple quotes will give you a much better idea of what you could or should be paying, and it will also give you more leverage for negotiating rates.

2. Take Advantage of Special Discounts
Many insurance companies provide special discounts for a variety of factors, including your age, driving record, student report cards, and more. They don't automatically apply these savings—you have to ask for them. To make sure you're taking advantage of the discounts, review an updated discount list each year to see if your family has qualified for any new discounts.

3. Raise Your Deductible
One of the easiest ways to lower your insurance payment is to raise your deductible—the amount you would have to cover before your insurance kicks in. This is because the more you have to pay out of pocket in case of emergency, the less risk the insurance company has to assume. The flip side is that in the event of an emergency, you would need to cover a much larger deductible, which is only a good option if you are willing and able to keep an emergency fund in place.

4. Combine Policies
While shopping around is important, it can also be quite advantageous to carry all your various insurance policies with the same carrier to take advantage of a multiple-policy discount. Additionally, bundling policies can not only save you money, it can make your life easier by giving you one reliable contact—your agent—for your insurance needs and questions.

5. Improve Home Security
Installing a home security system isn't as difficult or expensive as it might seem, and many insurance companies will offer a significant discount for homes that have a home security system. Adding additional locks, motion sensor lights, and other home security features can help as well. Check with your provider for specific details.

6. Maintain a Good Credit Score
While this isn't always the case, your credit score can have a big impact on your insurance rates. Some insurance companies will consider anyone with poor credit "high risk," will will result in a higher rate. While not all insurance companies use credit as a gauge, it's definitely smart to use credit wisely to avoid potential red flags.

7. Ask for a Long-Term Discount
While it's not necessarily a good idea to stick with the same old insurance carrier you've always had, there might be a way to make that loyalty work in your favor. If you've been with the same insurance company for more than five years, ask about long-term discounts, which are rate reductions based on the number of years you hve been insured through a particular company. Again, these discounts won't happen automatically, so you will need to ask.

8. Switch to Private Insurance
If you live in a high-risk area that is susceptible to flooding, hurricanes or other natural disasters, you may have been told that your government insurance is your only option. However, this may not be the case. Check with a local insurance provider to see if there's a private insurance option available at a less expensive rate. You may be surprised at what you may find.

9. Buy a Cheaper House
While it may not be practical to move just to save on home insurance, the house that you live in does have a huge impact on your insurance rates. It goes without saying that the more expensive your home is, the more expensive your insurance will be. If you're in the market for a new house, consider downsizing to a smaller house or cheaper location. Also, look for features that will help keep your rates down, such as added security or features that make it more disaster-resistant.

10. Compare Insurance Rates by Neighborhood
All neighborhoods weren't created equal in terms of homeowner's insurance. Proximity to the ocean, flood risk, elevation and any other claims common to your neighborhood all play a factor. If you're shopping for a new home, be sure to consider location in your decision, and to find out what your insurance rate would likely be before you make an offer. Just remember, the "perfect" house might not be as good a deal as you think.

The common theme with these ideas is that YOU as a homeowner has to be vigilant about making sure that you're always getting the best insurance rates. Your insurance agent will not do this for you. Review your policy using these ideas and then make to repeat this annually. You may be pleasantly surprised at how much you're able to save.

How do you save on home insurance?

LEAVE A REPLY
Your email will not be published.