10 Ways to Save on Air Travel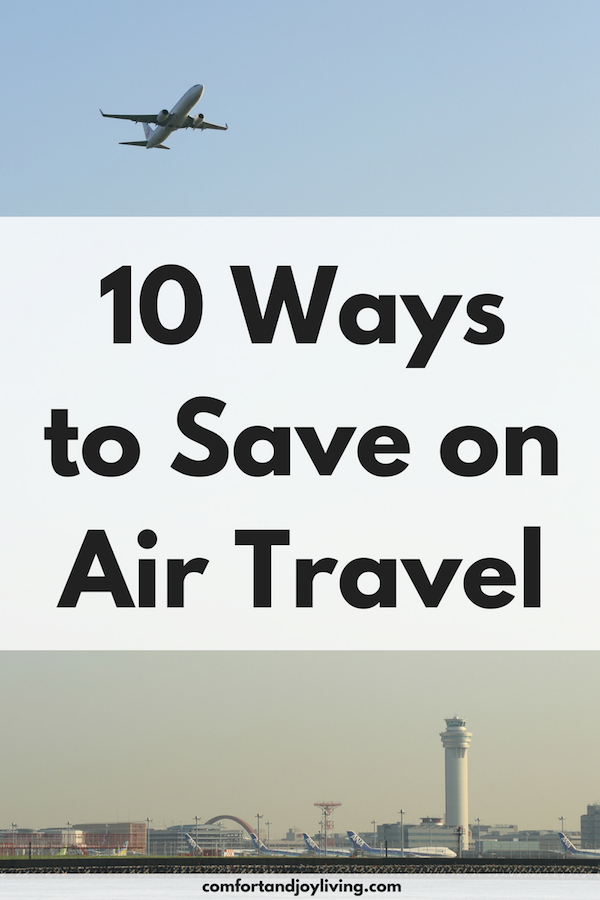 Finding a great flight deal is harder than it used to be. Airfares are on the rise and many airlines are imposing very high fees for checked bags and on-board meals and entertainment. The process of booking flights can be quite stressful, but it's possible for budget-minded travelers to keep costs under control. Here are ten tips for saving money on air travel for your next trip.

1. Shop smart online
Shop on discount airfare sites. Sites like Expedia (my personal favorite), Priceline and Orbitz are online travel agencies, which means that they have access to deals and create discount packages to lure travelers. Kayak plugs your preferred dates into its search engine that looks at airline sites and agency sites to show you the prices and options that are available. CarryOn uses crowd-sourcing to save members on hotels and airfare using group rates. As as added bonus, Expedia and CarryOn will send you price alerts.

Once you find the best deal, get cash back on your purchase and save even more by shopping through a cash back site, such as Ebates or Inbox Dollars. Ebates, for example, will give you up to 4% cash back on purchases made through Expedia, plus you can also accrue Expedia rewards points and get air miles on the airline that you're traveling with.

2. Cash in credit card airline points and miles
These days, many credit card companies offer mileage and points for every dollar that you spend. Plus, the dates are much less restrictive and many mileage points are transferable, so you and your spouse can use them interchangeably. They're also often accompanied by free baggage check-in and ticket insurance, preferred check-in status and even seat upgrades.

3. Become a frequent customer with one airline.
If you fly a lot, your loyalty to one airline can really pay off—more than you would save by always trying to get the very lowest fare. Frequent flier status is much more achievable these days, especially if you're smart about which credit card you use, as the right card can help you achieve preferred status much quicker. As a preferred frequent flyer, you have access to discounts, special deals, better service, free upgrades and other great perks.

Even if you don't qualify for "preferred" status, you can still sign up with airlines that you frequent or that have a hub in your state. For example, Frontier and Southwest offer great deals to the western US and Jet Blue has unbeatable rices if you live n New York; Delta has a hub in Atlanta, so you can find direct flights for a good price. Sign up for these alerts and you'll get offers and sales right in your inbox.

4. Check with the airline directly
On the same note of signing up for price alerts through your preferred airline, also check the airline's site directly before you book through any other vendor or agency. Sometimes airlines offer the best deals right on their website and you'll find prices and time selections narrowed down. Also, airline sites are sometimes easier to work with, more simple and offer easier options if you have to change or cancel your trip.

5. Travel smart with insurance
Emergencies happen. Even if you think there's absolutely no way you will cancel your trip, we all know that sickness and other issues can come up out of nowhere. Before you pay the $50-$100 fee to insure your tickets through the airline, contact your credit card company. Even if you didn't purchase the tickets using points or miles, some credit card companies will insure your purchase and save you the penalty and cancellation fees. See if your credit card company offers trip protection before you buy tickets.

6. Don't pay for food
Airline food is expensive and often stale and unhealthy. Even bottled water, soda and fresh fruit can be pricey and less than ideal.

Bring an empty bottle through security and fill it up when you get to the gate or waiting area. Dry snacks are easy to bring on, so bring some granola bars and other items so you don't making an impulse purchase at a time of desperation. Even on the plane, the most that you'll get for free is a half-can of soda and miniature pretzels. Keep yourself and your kids happy with some treats so that you can avoid splurging on a $10 less than satisfying meal offered on the flight.

7. Book one leg at a time
If you're traveling alone or if your kids are easy going, and you're comfortable with flexible traveling, consider booking your trip one leg at a time. You might find a cheaper flight to Denver on one airline and make a connection to California on another. You may return home on a different airline or have an out-of-the-way layover, but you can save a lot of money in the long run. Before you purchase your tickets, do the math, check airports nearby and try to get creative with deals.

8. Travel on holidays and less popular days
The day before Thanksgiving, Christmas, Memorial and Labor Day weekends are a nightmare to travel. You can expect long lines, delays, expensive tickets and other hassles if you travel on these days. Instead, booking your flight on the holiday itself can make the experience less expensive and save you money. Tickets are often priced a little lower on holidays.

It's also cheaper to fly on days that are less popular—Tuesday, Wednesday and Saturday. The most expensive days to travel are Fridays and Sundays.

9. Take a longer flight or schedule a longer layover
If you insist on taking a direct flight (which, of course, with kids can be a must), you'll probably pay more. If you can work from the airport or don't mind some time in between flights, or even taking a longer flight, you may save on your tickets.

An additional benefit of longer flights and extra legs is that you can accrue more frequent flyer miles for the same trip.

10. Avoid additional fees
If you can manage to bring only one carry-on bag per traveler, you'll save on the customary $50 a bag charge that airlines have nowadays. Additionally, some airline credit cards will also give you one free bag per flight.

Avoid other fees for options such as seat upgrades, on-board Wi-Fi, movies, entertainment and snacks by planning ahead. Download your entertainment before your trip and watch from your laptop or access from your tablet. Come prepared with as many small comforts as you can. Pack a neck pillow, bring a wrap or scarf to stay warm, and book an aisle seat for more legroom. If you travel smart and simply, you can forgo many of the little fees that quickly add up over the course of your journey.

LEAVE A REPLY
Your email address will not be published.